Roman Coppola on "A Glimpse Inside the Mind of Charles Swan III," Bill Murray and wanting to work with Kristen Stewart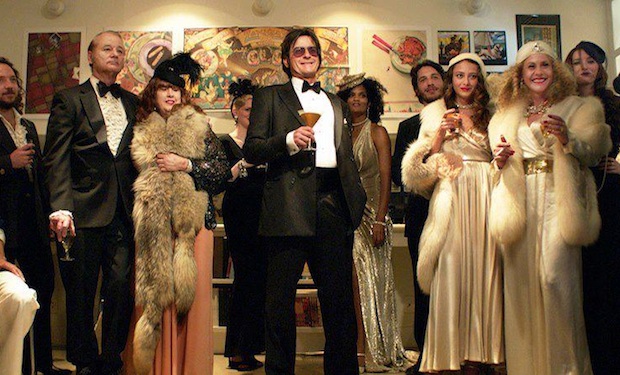 Posted by Terri Schwartz on
IFC: Maybe he just draws it to him. One of my favorite moments of the movie was when you had the actors and crew recite their names at the end instead of having end credits. Why did you decide to do that, and how many times did you have to film it?
RC: I remember writing that as I was doing the script, like, "Oh, what would be a unique way to end the picture that would be in the spirit of what the movie kind of represents?" To me it's kind of a collective of people coming together and making this. It felt kind of like a play, and a curtain call is very common in the theater — not that this is particularly theatre-like, my movie, but it's kind of familiar. In fact I met someone who was like, "Every movie should have an end sequence like that," and I thought, "Oh, that would be kind of cool, as it is in the theater."
There's a movie called "Candy" that inspired it. This movie is by Christian Marquand in which at the end of the film you see all the characters sort of some together out of the context of the story but just sort of as the actors. That inspired the idea and it was sort of a thank you and a way to acknowledge my crew and the whole team of people. I like the notion. It was a little sentiment to me that maybe only I care about but, in the story, these two characters Charlie and Ivana will probably never see each other again. It's clearly over, and yet Charlie Sheen as an actor and Katheryn Winnick as an actress kind of came together as friends and meeting one another in the context of the movie, and I thought there was something kind of charming about they say farewell to each other but in the end they're kind of holding hands, together again. It was a neat notion to me to acknowledge that there's a new relationship that was born out of this. That meant something to me.
In terms of how many takes, we left ourselves plenty of time because it was a pretty ambitious shot and there was the sunset. I actually got a really great take which is the one we used, but I kept shooting a few more because the light kept going down deeper and deeper into the sunset. But I think ultimately we did like 23 takes and I probably used take 16 or something like that.
IFC: I know it might be a strange thing to pick out but it was strangely personal. Usually the end credits are so impersonal, I just thought it was an interesting way of bringing the cast and crew to the audience.
RC: Yeah. It means a lot to me because my little daughter's in there and my longtime girlfriend and my crew. All the people who came together to help me out got to sort of take a bow, so to me it is rather personal. I'm glad you see it that way.
IFC: We're huge fans of Bill Murray here at IFC and I know you mentioned you've worked with him many times and know him personally. How does the man compare to the legend?
RC: He is a titan, meaning he is larger than life. He is not just a regular human. He's tall. He has such presence. He comes in the room and he just sweeps everyone up in his charisma and his spell. He's just a one-of-a-kind, larger-than-life guy. I've gotten to know him and also privileged to hang out and see him and stuff, but he definitely evokes a feeling of awe. I'm just going to gush, but he obviously is a person to be around. He's so incredibly funny and witty and he's very generous and warm. All the things you would hope for, he is.
IFC: You've worked with and known a lot of great filmmakers. Are there any who you think inspired this film the most?
RC: I would say that there's a few. Movies are very, what's the word… they can be anything. It's really magic. There's certain filmmakers that have shown me, as I see their movies, I think, "Wow, a movie can really be anything or take you anywhere and evoke all sorts of feelings and spark your senses." So movies that my film kind of aspires to that use sort of that freedom is a movie like "Stardust Memories" or "Annie Hall," which are of course Woody Allen movies. He's obviously one of the greats, we all know that. If you look at "Annie Hall" and you look at all the places it goes, it's really staggering. It's really just so free, so that really inspired me.
I love Bob Fosse in particular. "All That Jazz" is a movie that I always could just watch again and again, and it similarly has certain fractured narrative and use of fantasy and feeling rather free. I think both those filmmakers owe a debt to [Federico] Fellini. [He] is one of those master filmmakers who is particularly in touch with a sense of fancy and flights of fancy and fantasy and feeling that freedom, that malleability that film can sort of take you anywhere. So a film like "8 1/2" is something that really, deeply impressed me and kind of relates to things I've done, so those are the things that come to mind from more a sense of structure and sense of mis-en-scene.
IFC: "The Bling Ring," which you produce, seems to continue Sophia Coppola's trend of exploring fame and celebrity and the obsession with it. As a member of the Hollywood elite looking out, what do you think of that topic?
RC: That's really a great question for Sophia to answer. She works in a very intuitive way so this is more of a concept, talking about that. I think it's sort of the job of the viewer or the job of the critical world to consider, analyze and discuss themes or ideas. But just working with her, she gets something in her head and is like, "Ah, there's something I like about this," or, "Something is interesting about this," and it's very rare and frankly like never that it's a discussion about concept. Like, "Oh, this is a story of our time." But artists that are sensitive; art is like a membrane that sort of picks those things up, so I think it's very reasonable to say that it's a reflection of our sort of celebrity-obsessed culture and sort of a comment on it, certainly. I guess the distinction I'm trying to make is that's not really the intention.
It's a world that interests her and I think many people are fascinated by celebrity and we can all be above it, like, "Oh, I don't really care," but then you read something on TMZ and you want to read it, and People magazine, you see it on the airplane and you read it cover to cover. It's just everyone seems to have this curiosity about fame. I don't think it's anything new. It's certainly always been the case that there are those noted people that seem to kind of represent ideas. There's the good guys, the bad guys, the villains, and you just sort of read into it. Anyways, I'm going sideways, but it's actually playing very soon in Cannes and has an opening night slot so the world will get a chance to check out soon.
IFC: Lastly, I'm just curious if you have anything in the works right now that you plan to direct or write or produce?
RC: You know, I don't really know. I don't have an exciting answer for you. It took a lot of time and process to make this movie. It was very much a handmade movie in that I was very involved with all the phases and I did it with a lot of sweat and help from people that are close to me and so I'm kind of sort of taking a little breather. I'm expecting a baby soon and will enjoy that. Anyway, longwinded answer but I don't really know. I'm kind of in that state of mind where you start to look around and you read something in the newspaper and you're like, "Oh, is that a story kernel?" I'm in that state of receptive curiosity of something that will maybe pop into my mind soon.
IFC: Is there anyone specific that you'd like to work with going forward?
RC: I met Kristen Stewart not long ago because I was involved with "On the Road" and I found her to be so charming and interesting. That is someone I admire. Johnny Depp is such a talented person. I could just go on and on. But I don't have any plans or designs. I'm just like everyone else; there's these people that of course you'd like to work with.
Watch an exclusive bonus clip from "A Glimpse Inside the Mind of Charles Swan III" below!

video player loading
.
.
.
What did you think of "A Glimpse Inside the Mind of Charles Swan III"? Did you like the casting of Charlie Sheen? Tell us in the comments section below or on Facebook and Twitter.