Roman Coppola on "A Glimpse Inside the Mind of Charles Swan III," Bill Murray and wanting to work with Kristen Stewart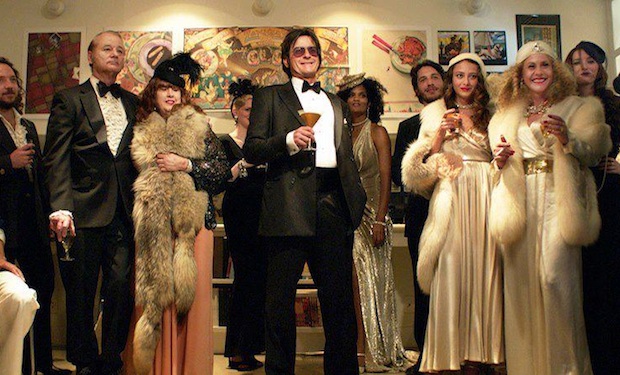 Posted by Terri Schwartz on
Roman Coppola has been involved in the Hollywood scene for decades, but he rarely is found directly behind the camera. After helming his directorial debut "GQ" in 2001, he has acted primarily as a co-writer, music video director and producer on projects for people like Wes Anderson and his sister Sophia Coppola instead of directing his own features. That changed in 2011 when it was announced that he would tackle the independent movie "A Glimpse Inside the Mind of Charles Swan III," which he also wrote and was producing.
Years have passed and, after making its premiere at the Rome Film Festival and having a limited run in theaters, "A Glimpse Inside the Mind of Charles Swan III" was released on Blu-ray on May 14. IFC had a chance to talk with Coppola about the movie, the actors he chose to work with and what he plans on working on next.
IFC: Why is this the story that you wanted to tell?
RC: What can I say? Projects sort of choose you. People ask, "Oh, why'd you do this?" "Why'd you choose that?" I find it hard to really answer genuinely because you get something kind of in your mind and it's an intuitive feeling. In this case, there was a character. I had a sense of this guy that I thought would be a fun to see portrayed. And then he got dumped and how does he react to that? He is kind of a very imaginative kind of character in how he sees things and to use to that as an opportunity to have these kinds of flights of fancy and have the experience of the movie reflect the feeling of what it's like to be dumped and how your mind is kind of crazed and kaleidoscopic, fractured thoughts. It's not really an answer I can give, why I chose that. It just sort of chose me. It's just the character interested me in that world, but it did start with the character and the feeling, this vibe of this kind of cool guy who can't keep it together when he got dumped.
IFC: What led you to casting Charlie Sheen in that lead role? Did you always know you wanted him, or was there someone else you were considering?
RC: I wrote it without really anyone in mind. As you're writing, you always think, "Oh, it could be this person or that person," and you're sort of open to thinking of people, but I didn't really have an actor in mind. It wasn't until I kind of got into the casting process — who could I get to portray this? — that I thought of Charlie. To me, it was sort of a no-brainer in that I needed someone who was the right age, so mid-40s. I needed someone who is handsome and is charming, someone who had wit and this kind of sense of humor, and someone who's a fine actor, and someone that, to me and maybe people won't agree with me, but a freshness that you hadn't really seen on the screen. There's something fun about presenting someone that has a freshness in a way, and I just thought Charlie had all those qualities in terms of being, as I said, a very good actor, very charming, the right age.
The fact that I knew him personally — I haven't seen him in many years, but we as kids we were pals during "Apocalypse Now" — that's also something that means something to me. When you're trying to make a movie, to reach out to people you have a rapport with and you know, you have sense of who they are, [is nice]. Obviously Jason [Schwartzman] is in the movie, and Patricia Arquette is someone who was part of our family; she was married to my cousin [Nicolas Cage]. Bill Murray is someone who I've worked with over the years, so there was a comfort and I think an asset of working with someone who I had this connection to.
IFC: It's interesting that you call it a "freshness," because I definitely do feel like we've seen a new side of Charlie Sheen since he came out of this difficult time in his life.
RC: I wouldn't want to make any proclamations, but I think it's great that you see it that way. It's interesting because, to me, I think he gives a very good performance in the movie. I think he's very charming. He's just a witty guy. I think he's fun to watch. I think that one of the challenges to the movie — and to me, I see him as the character. He's Charles Swan III. You know, he's embodying this character, but I think a lot of people seem, my impression, to have a hard time kind of divorcing all their kind of Internet kind of notions about someone. It's hard for people to let go of that, so I sort of invite people to say, "Hey look, this is an actor portraying the role." I think a lot has been made, at least presented to me, like, "Oh Charlie, that's an odd choice," or, "Why him?" To me it's like, he's so obvious. He's a great talent. He's got such charm and wit. It's so obvious to me, but I guess that's kind of why I'm just a different person than everyone else.
IFC: Well the parallel obviously is in the name, too. It's weird seeing him onscreen being called "Charlie" or "Charles" and having to disconnect that.
RC: It's funny because in "Two and a Half Men" he also plays "Charlie," in his new show ["Anger Management"] he plays "Charlie," and I wrote the character "Charlie" as just a name, so that's a weird interesting coincidence.