Paul Giamatti is the Rhino in new "The Amazing Spider-Man 2" image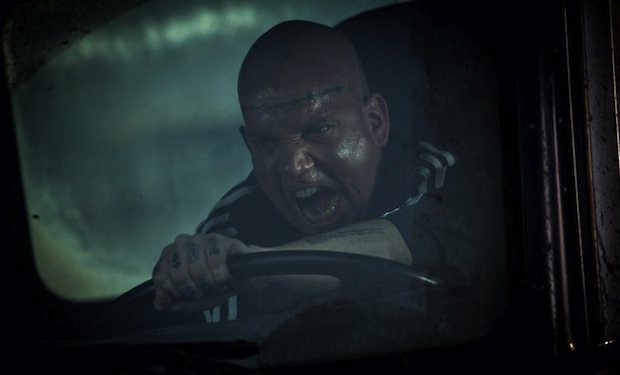 Posted by Terri Schwartz on
Director Marc Webb continues to roll out teases of "The Amazing Spider-Man 2" on his Twitter account. The latest image he's posted shows Paul Giamatti as the villain Rhino.
"Привет Америка. Познакомьтесь с Алексеем Сицевичем!" the tweet reads. That translates to, "Hello America. Meet Aleksei Sytsevich!" Clever clever, Marc Webb. If you couldn't already tell, the Rhino is a Russian character.
A set photo showing what looked like Giamatti's double hit the web earlier in May that gave fans their first taste of what the Rhino would look like. Giamatti definitely seems like a perfect fit for the part, and this image makes it look like Webb has captured the look of the character well. It's still yet to be revealed whether Rhino will transform in "The Amazing Spider-Man 2," though he seems to clearly be a villain in this picture.
"The Amazing Spider-Man 2″stars Andrew Garfield, Jamie Foxx, Dane DeHaan, Colm Feore, Felicity Jones, Giamatti, BJ Novak and Sally Field. Foxx is playing Electro, DeHaan is Harry Osborn and Woodley is Mary Jane Watson. The movie comes out on May 2, 2014. Here's the official synopsis:
In "The Amazing Spider-Man 2," for Peter Parker (Andrew Garfield), life is busy – between taking out the bad guys as Spider-Man and spending time with the person he loves, Gwen (Emma Stone), high school graduation can't come quickly enough. Peter hasn't forgotten about the promise he made to Gwen's father to protect her by staying away – but that's a promise he just can't keep. Things will change for Peter when a new villain, Electro (Jamie Foxx), emerges, an old friend, Harry Osborn (Dane DeHaan), returns, and Peter uncovers new clues about his past.

Do you like the look of Rhino? Tell us in the comments section below or on Facebook and Twitter.