Nick Offerman sings a filthy song about rainbows to his wife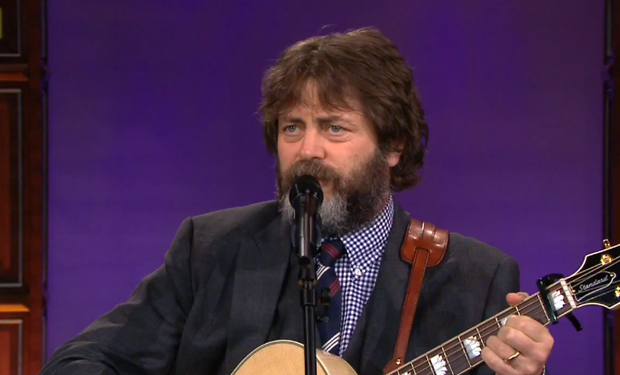 Posted by David Wolinsky on
Everybody knows Nick Offerman and Megan Mullally have true love. As far as Hollywood couples go, have always been pretty unusual about the way they express their mutual affection, though. Whether it be rapping about dicks together or being photographed in the nude with grapes, they'll always make other famous pairings, even older ones, like Billy Bob Thornton and Angelina Jolie (who reportedly wore vials of each other's blood) seem tame by comparison.
Well, Offerman stepped up his half of the game up on a recent Leno appearance, singing an original tune he penned for Mullally. The story behind the song is: She wanted a rainbow for her birthday, so he did the next best thing and wrote her a song about rainbows. That is, a filthy song about blow jobs and other, more inventive bedroom athletics with lyrics that work in puns and rhymes alluding to every color of the rainbow. For example: "You put me on trial and gave me life / But orange you glad I didn't say banana / When you made me your bitch and I made you my wife."
Describing it any further would sap its funniness and potential to surprise, so check this out. Also, know this: Usher, was on the show to promote his joining "The Voice" as a coach. After Offerman's song, Usher was asked what he thought. After a beat, he offered, "Well, um… interesting."
Judge for yourself.
Aren't Offerman and Mullally just the cutest couple? Tell us in the comments below or on Facebook and Twitter.