Ken Jeong talks stunts, breaking tropes and the evolution of Mr. Chow in "The Hangover 3"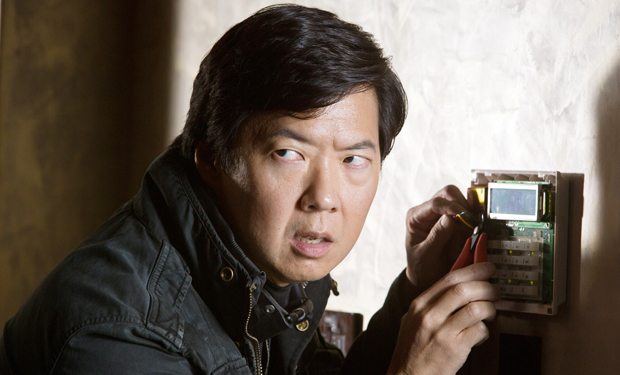 Posted by Jennifer Vineyard on
Mr. Chow is back and badder than ever in the third and allegedly final installment of "The Hangover" trilogy — which forgoes the formula of the first two (retracing the Wolf Pack's steps after a forgotten night to retrieve a lost friend) and puts Phil, Stu, and Alan in the middle of a heist. First order of business is to steal their one-time nemesis/sometime friend, Mr. Chow, "the driving force of the third movie," which meant Ken Jeong had to do some dizzying action sequences this time around.
"I'm definitely becoming an actor who will show that he will commit to the fullest," Jeong told IFC. "When actors talk about taking themselves out of their comfort zones to do a part, that was me, because I was doing that with regularity."
Jeong's biggest risk in the first "Hangover" was popping out of the truck nude — his idea, by the way. (Director Todd Phillips made him sign a nudity waiver in case he changed his mind). But for "The Hangover III," he had to do a 30-foot freefall for one scene during a prison break, and then for another scene, he had to simulate parasailing over Las Vegas, which required him to be suspended 40 feet in the air. Both scenes meant he had to conquer a "massive" fear of heights. "It's not like I could be sitting in a Lazy-Boy recliner yelling 'I love cocaine' in front of a green screen," he laughed. "I had to sell it. And I'm the kind of guy who would cry on roller coasters and Ferris wheels."
Jeong started working with stunt coordinator Jack Gill six weeks before the shoot, heading over to the Warner Bros. lot every Friday after shooting "Community," to attempt a systematic desensitization of being in a harness at a great height. "We would do five feet, then ten feet, then fifteen feet, then twenty feet," Jeong recalled. "And then once I was used to being up there, then I would learn to move, and then to move at an accelerated rate. I had to learn to be a daredevil."
For the prison break, Jeong — who was safety-harnessed — was able to dive repeatedly from a tank "with water falling behind my back" so that Chow could be swept out of a tunnel and fall 30 feet. Gill told him, "Only three people in the biz have attempted what you've done: Tom Cruise, Jason Statham, and Queen Latifah." ("So I'm among royalty!" Jeong laughed). And for Chow's escape from his Caeser's Palace penthouse, Jeong did the close-up shots for the Las Vegas parachute jump, but a team of stuntmen helped him do the rest. "I can't express enough gratitude and respect for what they do," he said, noting that four jumpers (who actually launched themselves from helicopters) stood in for him during different points of the 1,000 foot run. "Still, I conquered my fear of heights, so that's a personal triumph for me," Jeong said.
Stunts aside, Jeong was also happy to develop Chow into a more fleshed-out character, and reveal his vulnerable side. "When you see Chow doing karaoke, he really is a little lonely," Jeong said. "I could sing that song better, because I sing better, but Todd told me to sing it like Chow."
But even if "The Hangover" series comes to an end, Jeong holds out hope that he would get to continue to explore Chow in a spinoff (potentially involving Paul Giamatti from the second film). "We could learn his origins, how he became an international criminal. I would love to know that," Jeong said, explaining that Chow exists as a meta joke about stereotypes.
"In the first movie, when I'm releasing Black Doug, I say, 'Cachik!' which means 'Chicken die!' in Vietnamese. And I say, 'Camong!' which means 'Thank you' in Vietnamese," he said. "Those were ad libs of mine, to make my wife laugh because she's Vietnamese. But I also wanted to puncture the Asian stereotype of the obligatory Asian lines, so I did these non-sequiturs to make fun of the standard lines. Who better to say that than the guy making fun of the Asian archetype? Playing Chow is puncturing all these tropes on a subversive level, and he's easily my favorite character that I've ever played."
Compared to his villain/sometimes friend/always an outsider character Chang on "Community," Jeong said that Chow would eat Chang alive. "Chow is strong," he noted. "Chow would never live in an air vent. Chow would find the money to buy the school." He was worried that "Community" was about to be canceled, and had concession tweets ready to go, so he's "ecstatic" that the show was renewed for another season. "Six seasons and a movie!" he laughed.