Jessica Walter winks suggestively and describes Lucille Bluth's "dire straits" in "Arrested Development" season 4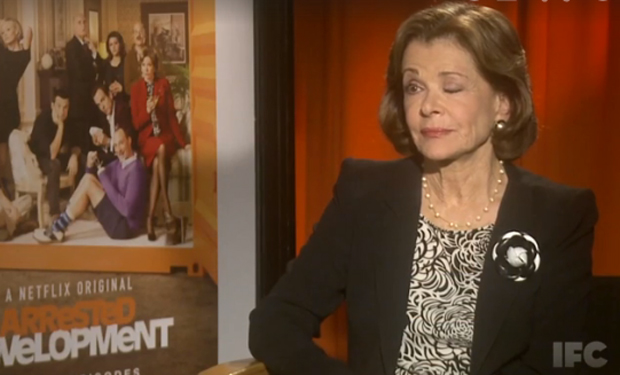 Posted by IFC on
By Michael Rougeau
"Arrested Development"'s Lucille Bluth, played by Jessica Walter, is known for many things, but subtlety is not one of them. That's evident whenever Lucille attempts to wink, a recurring joke that IFC couldn't resist dragging up when we sat down with the actress during a recent "Arrested Development" press day.
"Oh god," she said, closing a single eye in what appeared to be a prolonged grimace. The room erupted in laughter and applause, and she joined in enthusiastically.
The woman who plays the Bluth family matriarch seemed thrilled that "Arrested Development" is returning for a fourth season on Netflix after Fox cancelled it in 2006. She was all smiles as IFC asked her about her favorite scene from past seasons of the show.
She described one in which Lucille and her daughter Lindsay, played by Portia de Rossi, are forced to eat at a diner after being turned away from an upscale restaurant. Lucille orders the "Ike and Tina tuna" from the "trashy blonde waitress," as Walter described it. The waitress asks a simple question, and Lucille replies, "I don't understand the question, and I won't respond to it." It took Walter two tries, but she delivered the line flawlessly.
video player loading
.
.
.
Walter loves "those kind of moments," she explained. "I had a moment where — it wasn't even mine, really, it was Buster's — where I accuse him of stealing my rape horn, and he says very quietly to my other son Michael, he says, 'Yeah like anybody would ever want to "R" her.' I mean, you know, there were just so many good moments."
During the finale of season 3, Lucille was revealed as the mastermind behind the Bluth Company's many transgressions and deceits. Now that the cat's out of the bag, Walter said, Lucille is "in dire straits."
"Well, she's suffered for it. Let's put it that way," she said. "You see the ankle bracelet in the posters that they're showing. You know that means home surveillance by the authorities."
Lucille has returned to old vices, as well. "She's drinking maybe a little more than ever," Walter explained. "She's taken up smoking again." That much became evident in a clip that Netflix released leading up to the premiere of season 4 — Lucille exhales cigarette smoke carelessly into the willing mouth of poor Buster, who then blows it out the balcony doors.
Walter wouldn't drop any other hints, though. "We're not allowed to give any plot details, unfortunately, because we want everybody to watch and be surprised," she said. "I can't really say that much about what she's been up to, but it's multi-layered."
As for her favorite recurring joke? "Well, there's always 'I've made a huge mistake.' That's one running gag I love," Walter said. "GOB's line, you know, everybody ends up saying it, especially Lucille, as you'll see."
"And I love the music," she continued. "They play that Snoopy 'Peanuts' music whenever something sad happens. That happens. I love when that happens."
"Arrested Development" season 4 will air on Netflix in its entirety beginning May 26. Keep an eye out for IFC's interviews with the rest of the show's cast as the premiere approaches.
What is your favorite recurring joke from "Arrested Development"? Tell us in the comments below or on Facebook and Twitter.