Jason Bateman talks "Arrested Development" season 4, says "her?" like the good old days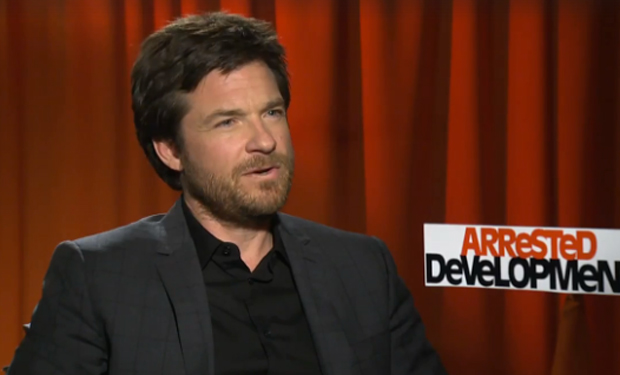 Posted by IFC on
By Michael Rougeau
"Arrested Development" is well known for its many recurring jokes, but few have stood the test of time as well as Michael Bluth's continued disdain for his son's girlfriend Ann. Though seven years have passed since "Arrested Development" went off the air, IFC learned firsthand that Jason Bateman can still deliver a "Her?" as well as ever. Watch the below video and see for yourself.
video player loading
.
.
.
During a recent press day with the cast of "Arrested Development," IFC had a chance to sit down with Bateman and talk about the coming season. According to him, it wasn't especially hard to get back into the character of Michael.
"It wasn't as surreal as I thought it would be," Bateman said of the show's return. It's been over seven years since Fox cancelled "Arrested Development," and it certainly felt surreal to some fans when Netflix announced it would produce the show's fourth season. But Bateman said the cast all stayed in touch over the years. "It just was such an easy fit for all of us when we were doing it that when we got back together it was pretty effortless," he said.
In the last episode of "Arrested Development," the season 3 finale titled "Development Arrested," Michael Bluth decided to give up on trying to keep his family together and focus instead on his relationship with his son. By the time the show catches up with him seven years later (seven years have passed in the show as well as in real life), "he's kind of banged up," Bateman admitted.
"My character has left looking after [his family] during these seven years and has been trying to keep his own ship afloat — which is I guess kind of a pun — but he hasn't been able to," Bateman said. "He's trying to get his feet back under him and not end up in dire straits like the rest of his family. He doesn't — well I won't spoil it, but he's — it's a work in progress."
"Arrested Development" is beloved by fans for its long strings of recurring jokes and self-referential humor, but it's also had an impressive cast of guest stars who ranged from Henry Winkler to Liza Minnelli. Season 4 will be no different, with stars like Seth Rogen, Kristen Wiig, and John Slattery picking up the torch. Batemen said he was surprised that so many celebrities wanted to be on the show.
"We were always in such a bubble when we started…we never really knew if anyone was going to like us," Bateman said. "When celebrities started asking to be on the show that was — that was, you know, it was kind of 'Well the cool kids are inviting us to a party, sounds great!' And, you know, we still feel like that."
As for his favorite moment from the series, Batemen described a scene from season 1, episode 10, "Pier Pressure," in which Will Arnett's character GOB blows marijuana smoke in Michael's face as Michael lectures him on morality. "It made me laugh so much when he did it," Bateman said. "That was a tough one to get through."
Bateman promised that dedicated and casual fans alike will be able to enjoy season 4 of "Arrested Development." "There are plenty of things that satisfy the diehard viewer, but nothing that will alienate the first time viewer," he said. "[Show creator Mitch Hurwitz] has done it in a way that it's great for the uninitiated and it's very satisfying for the diehard."
"Arrested Development" season 4 will air on Netflix in its entirety beginning May 26. Keep an eye out for IFC's interviews with the rest of the show's cast as we get closer to the premiere.
What is your favorite recurring joke from "Arrested Development"? Tell us in the comments below or on Facebook and Twitter.