J.J. Abrams reveals scrapped "Star Trek Into Darkness" title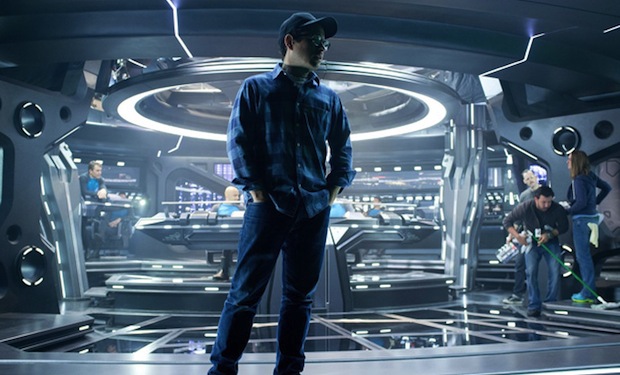 Posted by Terri Schwartz on
Back when "Star Trek Into Darkness" was known only as "Untitled Star Trek Sequel," the fate of its title was uncertain. J.J. Abrams reveals an unused title for the film that he had toyed with in a new interview.
"We always had 'Star Trek' in the title in some way," Abrams confirmed to MTV News. "There were other things we talked about. There's a very sort of intimidating giant black ship in this thing called the 'Vengeance,' 'USS Vengeance.' We talked about that name, 'Vengeance.' But it also seems like a word that was being used quite a bit in movies and felt a little familiar."
"Star Trek Into Darkness" definitely has a nicer ring to it than "Star Trek: Vengeance." Though the title definitely veers into crazy "Die Hard" sequel names territory, it definitely sets this new film series apart from those that came before. The original "Star Trek" TV shows and movies always used a colon in their names, so ditching that punctuation entirely definitely seems like it's for the better. Besides, "Star Trek: Vengeance" is incredibly generic and boring.
"Star Trek Into Darkness" is directed by J.J. Abrams and stars Chris Pine, Zachary Quinto, Zoe Saldana, Simon Pegg, Anton Yelchin, Karl Urban, John Cho, Alice Eve, Benedict Cumberbatch and Bruce Greenwood. The film is slated to hit theaters in IMAX on May 15 and in regular cinemas on May 16. It's been revealed that over 40 minutes of "Star Trek Into Darkness" will be shown in IMAX. Here's the official plot synopsis:
In Summer 2013, pioneering director J.J. Abrams will deliver an explosive action thriller that takes "Star Trek Into Darkness." When the crew of the Enterprise is called back home, they find an unstoppable force of terror from within their own organization has detonated the fleet and everything it stands for, leaving our world in a state of crisis.

With a personal score to settle, Captain Kirk leads a manhunt to a war-zone world to capture a one man weapon of mass destruction. As our heroes are propelled into an epic chess game of life and death, love will be challenged, friendships will be torn apart, and sacrifices must be made for the only family Kirk has left: his crew.
Which title do you prefer: "Star Trek Into Darkness" or "Star Trek: Vengeance"? Tell us in the comments section below or on Facebook and Twitter.