"Iron Man 3" review: Shane Black gives Marvel's armored Avenger an upgrade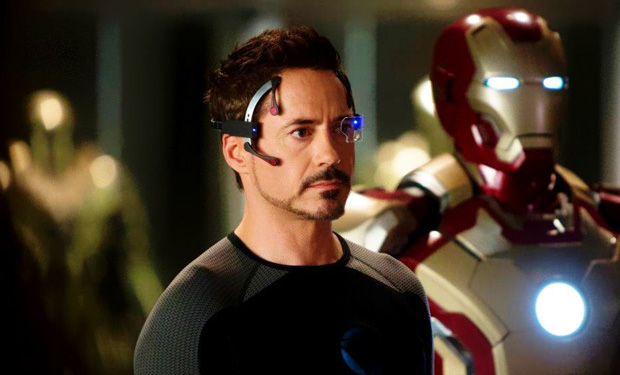 Posted by Rick Marshall on
Historically, the third chapter of superhero movie franchises tends to be a disappointment. "Superman III" was too goofy, "Spider-Man 3" was too crowded, and "Batman Forever" was too, well… Bat-nipply. Heck, even "The Dark Knight Rises" had a fair share of detractors.
And now "Iron Man 3" comes along and destroys our expectations with a high-powered repulsor blast.
Co-written and directed by franchise newcomer Shane Black ("Kiss Kiss Bang Bang"), "Iron Man 3" picks up an unspecified time after the events of "The Avengers," with billionaire industrialist Tony Stark (Robert Downey Jr.) burying himself in his work in order to cope with everything that's happened since the first "Iron Man." It doesn't take long for a new threat to emerge – this time in the form of The Mandarin (Sir Ben Kingsley), an international terrorist with a vendetta against the U.S. government. Drawn into The Mandarin's world after a series of attacks that take a personal toll, Tony soon finds himself facing an enemy that may be more than his armor can handle.
As a writer and director, Black has always shown a knack for blending intense action with clever comedy in films like "Kiss Kiss Bang Bang" (his directorial debut) and his scripts for "The Last Boy Scout" and "Lethal Weapon." Still, there was some uncertainty whether he was the right choice for a big-budget blockbuster like "Iron Man 3" when it was first announced that he'd be taking over the franchise from previous director Jon Favreau.
Fortunately, Black seems right at home in this corner of the Marvel movie-verse, and his involvement likely has a lot to do with "Iron Man 3" offering the most entertaining version of Tony Stark that we've seen so far.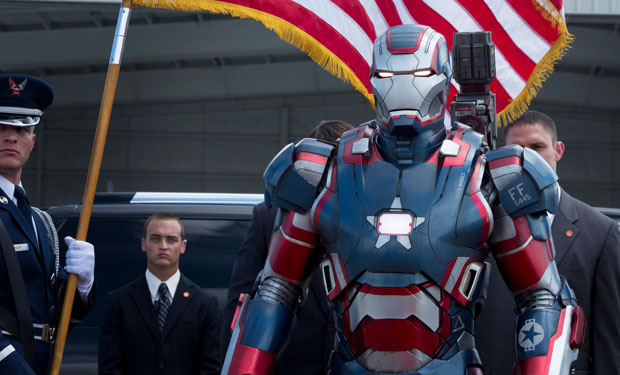 Where Downey seemed to have something to prove in the first "Iron Man," then go darker than he was comfortable with in "Iron Man 2," the third film gives us a significantly more clever, genuine Tony Stark who makes it clear why he's more than just a man in a suit of high-tech armor. Whether it's his level of comfort with the script or the person behind the camera, Downey packs a lot into each scene without any of it feeling too rushed, too ad-libbed, or too tonally incongruent with the rest of the franchise or the Marvel movie-verse.
Possibly the greatest evidence of this new-and-improved Tony Stark is how much time Downey spends out of the Iron Man armor over the course of the film – and how these scenes not only make perfect sense for the story, but are just as entertaining (if not more so) than the armored action sequences.
Without giving anything away, Marvel deserves a lot of praise for its handling of The Mandarin in "Iron Man 3," with Sir Ben Kingsley delivering what's likely to be remembered as one of the most memorable characters in the Iron Man franchise up to this point. Gwyneth Paltrow also does a great job with an expanded role in "Iron Man 3," handling Virginia "Pepper" Potts' action sequences like a natural and continuing to be the perfect complement to Downey's eccentric hero.
As far as villains go, it's refreshing to see the "Iron Man" franchise finally get away from armored bad guys challenging Tony to heavy-metal slugfests, and the super-powered soldiers Iron Man faces this time around mix things up nicely.
"Iron Man 3" does suffer from a few relatively minor plot holes that could leave you wondering what was left out of the final cut, but it still manages be one of the most entertaining, enjoyable films in Marvel's growing movie-verse. Not quite as complete a package as "The Avengers," but better than "Thor" and "Captain America: The First Avenger" (which both rank higher than "Iron Man 2" and "The Incredible Hulk" in the Marvel movie hierarchy), "Iron Man 3" defies typical third-chapter drop-off and makes it clear that the franchise is in good hands with its new director.
"Iron Man 3" hits theaters May 3 and stars Robert Downey Jr., Gwyneth Paltrow, Guy Pearce, and Sir Ben Kingsley. The film is directed by Shane Black.