"Grown Ups 2" TV spot shows Taylor Lautner, the ninja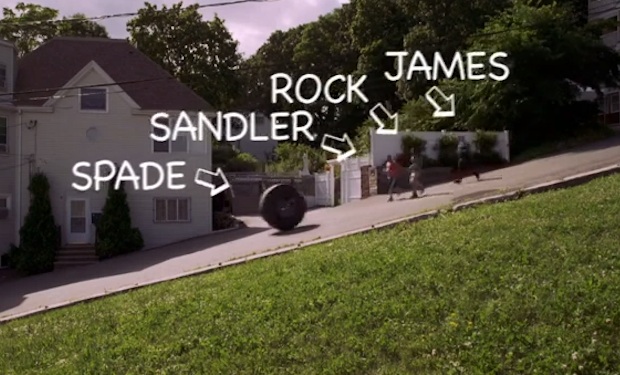 Posted by Terri Schwartz on
The "Grown Ups" are back to their same old antics in the upcoming "Grown Ups 2." Adam Sandler, Kevin James, Chris Rock and David Spade reprise their roles from the 2010 movie in the upcoming comedy that seemingly attempts to one-up that ensemble film.
One of the ways it looks like it plans to do that is by having some exciting guest stars. Taylor Lautner's involvement has been hyped a lot in the upcoming movie, and a new TV spot reveals an unseen scene where his frat boy character gives Sandler's Lenny a roundhouse kick to the face. Well, someone had to.
"I mean, these guys and Salma [Hayek], they're the best at what they do and it was a huge learning experience for me. I mean, it's an absolute blast," Lautner told Total Film of working on the movie. "The set is unlike anything else I've ever been on. We don't laugh this much on the 'Twilight' sets."
Directed by Dennis Dugan, "Grown Ups 2" also stars Maya Rudolph, Maria Bello, Nick Swardson and Steve Buscemi. It's due in theaters on July 12. Here's the official plot synopsis:
The all-star comedy cast from "Grown Ups" returns (with some exciting new additions) for more summertime laughs. Lenny (Sandler) has relocated his family back to the small town where he and his friends grew up. This time around, the grown ups are the ones learning lessons from their kids on a day notoriously full of surprises: the last day of school.
Are you planning on seeing "Grown Ups 2"? Tell us in the comments section below or on Facebook and Twitter.