"Grown Ups 2" poster is a comedy throwback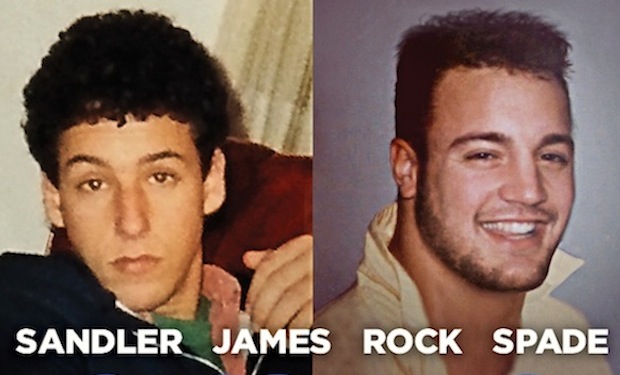 Posted by Terri Schwartz on
Adam Sandler, Kevin James, Chris Rock and David Spade have aged a lot during their years in Hollywood, so it's easy to forget that they were once edgy young comedians working the stand-up circuit. The four friends reunite in the upcoming comedy "Grown Ups 2," and the new poster for the flick serves as a reminder of just how far they've come in their careers.
The poster simply shows pictures of the four actors from their youths, and includes the tagline, "Just because they're a little older doesn't mean they've grown up." Clearly this applies both to their characters and to their real-life counterparts.
"Grown Ups" doesn't have a reputation for being the smartest comedy around, but this self-aware poster is some clever marketing. As fans of comedy, it's fun to see how far Sandler, James, Rock and Spade have come in their careers, even if that means they now have to make silly ensemble flicks.
Directed by Dennis Dugan, "Grown Ups 2" also stars Salma Hayek, Maya Rudolph, Maria Bello, Nick Swardson, Steve Buscemi and Taylor Lautner. It's due in theaters on July 12. Here's the official plot synopsis:
The all-star comedy cast from "Grown Ups" returns (with some exciting new additions) for more summertime laughs. Lenny (Sandler) has relocated his family back to the small town where he and his friends grew up. This time around, the grown ups are the ones learning lessons from their kids on a day notoriously full of surprises: the last day of school.
What do you think of this new poster? Tell us in the comments section below or on Facebook and Twitter.