"Ender's Game" trailer teaser looks incredible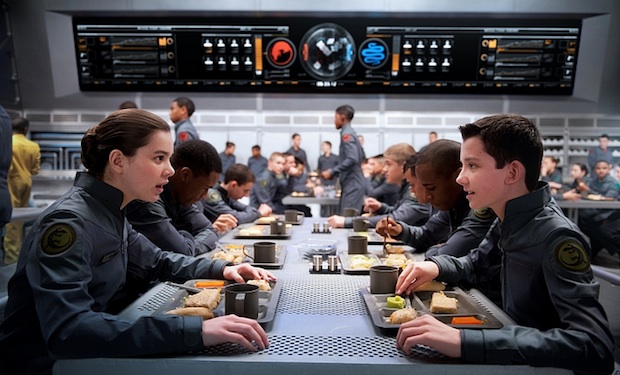 Posted by Terri Schwartz on
The full trailer for "Ender's Game" might not arrive until May 7, but the new trailer teaser we received promises that it will be worth the wait. The footage included in the below video looks stunning and promises that the sci-fi world "Ender's Game" presents will be fully fleshed out and gorgeous.
That's not even mentioning the fact that this movie stars actors with incredible talent. From Harrison Ford and Ben Kingsley to Asa Butterfield and Hailee Steinfeld, "Ender's Game" is going to be a movie to watch for. Just this taste of the futuristic world the film is set in has us excited, so we're intrigued to see what is presented in the upcoming full-length trailer.
The trailer will premiere during a Google + Hangout taking place on May 7 at 4 p.m. ET/1 p.m. PT. In addition to showing the new footage, the Hangout will include a live discussion with Butterfield, director Gavin Hood and producer Roberto Orci.
"Ender's Game" also stars Viola Davis and Abigail Breslin. The film was written and directed by Hood, the man behind the 2009 superhero flick "X-Men Origins: Wolverine." Here's the official plot synopsis for "Ender's Game":
In the near future, a hostile alien race (called the Formics) have attacked Earth," the synopsis reads. "If not for the legendary heroics of International Fleet Commander, Mazer Rackham (Ben Kingsley), all would have been lost. In preparation for the next attack, the highly esteemed Colonel Graff (Harrison Ford) and the International Military are training only the best young children to find the future Mazer. Ender Wiggin (Asa Butterfield), a shy, but strategically brilliant boy is pulled out of his school to join the elite.

Arriving at Battle School, Ender quickly and easily masters increasingly difficult war games, distinguishing himself and winning respect amongst his peers. Ender is soon ordained by Graff as the military's next great hope, resulting in his promotion to Command School. Once there, he's trained by Mazer Rackham, himself, to lead his fellow soldiers into an epic battle that will determine the future of Earth and save the human race.
What do you think of this new footage? Are you as impressed as we are? Tell us in the comments section below or on Facebook and Twitter.