"Ender's Game" trailer brings children into the battle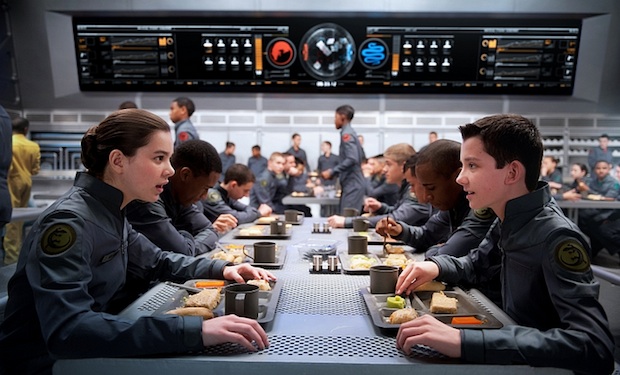 Posted by Terri Schwartz on
"Ender's Game" fans, consider yourself teased. A two-minute trailer for the upcoming Orson Scott Card adaptation has been released, and it looks just as gorgeous as we'd always dreamed it would.
Visually, "Ender's Game" looks spot-on. Though fans have complained about a certain pivotal scene being included at the end of this first trailer, it at least shows that director Gavin Hood has really nailed the style of "Ender's Game." The visual effects Card described in his 1985 novel have been updated, and the Battle School sequences look exactly how we pictured them.
The trailer teases the exciting array of actors who star in this upcoming sci-fi epic. In addition to leading man Asa Butterfield, Harrison Ford plays Colonel Hyrum Graff, Ben Kingsley plays Mazer Rackham, Hailee Steinfeld plays Petra Arkanian, Abigail Breslin plays Valentine Wiggin and Viola Davis plays Major Gwen Anderson. Not present in this movie's trailer include Aramis Knight's Bean and Jimmy Pinchak's Peter Wiggin, though Peter could be who Valentine is seen hugging in a brief scene.
"Ender's Game" was written and directed by Hood, the man behind the 2009 superhero flick "X-Men Origins: Wolverine." It's due in theaters on November 1. Here's the official plot synopsis for "Ender's Game":
In the near future, a hostile alien race (called the Formics) have attacked Earth," the synopsis reads. "If not for the legendary heroics of International Fleet Commander, Mazer Rackham (Ben Kingsley), all would have been lost. In preparation for the next attack, the highly esteemed Colonel Graff (Harrison Ford) and the International Military are training only the best young children to find the future Mazer. Ender Wiggin (Asa Butterfield), a shy, but strategically brilliant boy is pulled out of his school to join the elite.

Arriving at Battle School, Ender quickly and easily masters increasingly difficult war games, distinguishing himself and winning respect amongst his peers. Ender is soon ordained by Graff as the military's next great hope, resulting in his promotion to Command School. Once there, he's trained by Mazer Rackham, himself, to lead his fellow soldiers into an epic battle that will determine the future of Earth and save the human race.
What did you think of this new trailer? Tell us in the comments section below or on Facebook and Twitter.