David Cross and Portia de Rossi describe Lindsay and Tobias's "trajectory of sadness" in "Arrested Development" season 4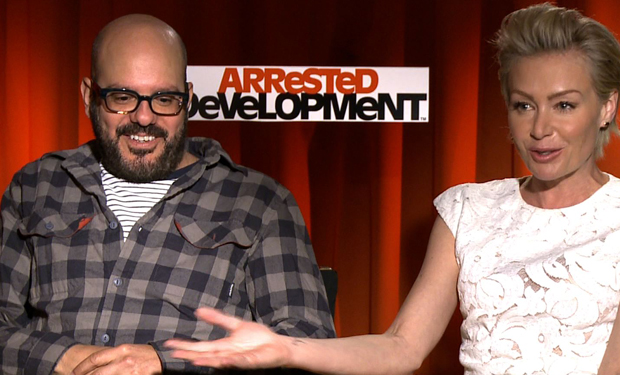 Posted by IFC on
By Michael Rougeau
When the final episode of "Arrested Development" aired in 2006, Portia de Rossi and David Cross's characters Linsday Bluth and Tobias Fünke had decided to stick out their marriage, for better or worse. But don't tell that to de Rossi and Cross.
When IFC caught up with the actors during a recent press day with the "Arrested Development" cast, they were clueless about the state of their relationship even as preparations began for the show's unexpected fourth season.
"I didn't even know where we were at the end, actually, so when I got the script I was like, 'We're still together?'" de Rossi said.
It took some memory jogging on IFC's part, but the duo finally began to remember. "On the Queen Mary we were definitely starting to drift," Cross said. "The Hot Cops were between us, yes," de Rossi added.
"Arrested Development" was cancelled during its third season, and its return on Netflix has been long in the making. "Never thought it would happen," de Rossi said. "We've been waiting a long, long time for this day."
The Hot Cops, by the way, are one of the many recurring gags that will return in season 4. "The Hot Cops are back," Cross teased, though he left it at that.
video player loading
.
.
.
The pair finished one another's thoughts throughout the interview. When asked about their favorite moments from past seasons, they took turns framing a vague scene that ultimately could have described anything from the show.
"That time. You know what I'm talking about," Cross began.
"Oh that time. With the thing?" de Rossi interjected.
"You know, where it was misunderstood," Cross answered.
"Oh my god, yeah, and everyone thought it was something else," de Rossi explained.
"Everybody thought it was something else and it turned out to be completely different," Cross finished. "That was fun."
("I have got to watch this show," Cross added. "I've heard nothing but good things.")
He then for some reason brought up "Breaking Bad" before the conversation returned to season 4 of "Arrested Development."
"It's hard for us to really know how it's all going to land because we were kind of in our little worlds while we were shooting this series," de Rossi said. But she admitted that show creator Mitch Hurwitz has worked some classic jokes in there.
"For example, a character in my episode accidentally ends up bright blue from head to toe," she said. "But not because of anything to do with the Blue Man Group or anything like that. He just happens to be blue."
"And Lindsay is stuck once again — " Cross interrupted.
"With a blue man," de Rossi finished. "Yup."
video player loading
.
.
.
And what of Lindsay and Tobias's shared journey through the coming season? "It's par for the course," Cross explained. "We split, we get back together, we split again, we — it's more of the same."
"They're going to stick it out, they're going to give it another try, you know, and then yeah," he continued. "You can't give away too much stuff. But it definitely follows that trajectory of sadness."
"Arrested Development" season 4 will air on Netflix in its entirety beginning May 26. Keep an eye out for IFC's interviews with the rest of the show's cast as the premiere approaches.
What is your favorite recurring joke from "Arrested Development"? Tell us in the comments below or on Facebook and Twitter.