Comedy Bang! Bang!'s Scott Aukerman talks about Between Two Ferns and The Lonely Island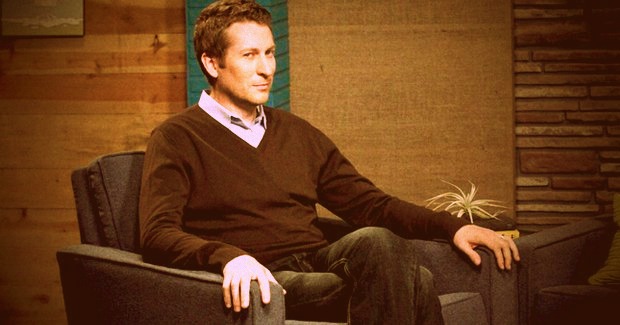 Posted by Melissa Locker on
Yesterday a new episode of Between Two Ferns with Zach Galifianakis landed on the internet. The webseries lives on Funny or Die but spreads so quickly through the internet it reminds you why videos are called "viral." The show has a simple premise: Zach Galifianakis interviews a celebrity guest between two titular ferns in a pseudo public access television show. While the premise is simple, the jokes are not. The show thrives on creating brilliantly muted comedy that is simultaneously subtle and laugh-out-loud funny, especially in the show's early episodes where it was unclear whether or not the celebrities guests were in on the joke as Galifianakis played his role completely straight. The meta-ness of do-they-or-don't-they only added to the laughs. The episode that appeared yesterday combined two of the internet's favorite things: Between Two Ferns and the Saturday Night Live-based comedy rap group The Lonely Island. The video started out as an episode of Between Two Ferns with Galifianakis interviewing James Franco. Suddenly the show breaks into a full-on "Spring Breakers" parody complete with Franco reprising his role in a music video by The Lonely Island for their song "Spring Break Anthem," off their forthcoming album. It was brilliant. Not to brag, but as it turns out we know the director: Scott Aukerman, host and creator of Comedy Bang! Bang! and long-time producer and co-creator of Between Two Ferns.
We talked to Scott about his involvement with Between Two Ferns, how he brought The Lonely Island and Ferns together:
So rumor has it that you are a producer of "Between Two Ferns"
Yes, and this time I directed the ferns.
You are a Fern Director? Is that your title?
Yes, that's my professional title. When I got there everyone thought my job was just to move the ferns around. It was a really funny day. We settled it eventually.
I think that's a lie? So can you tell me the real story of your involvement with Between Two Ferns?
We started Ferns a few years ago for a different show I was working on that didn't get made. We really liked the Ferns bit and so we put it on Funny or Die, which was really just starting up at the time and it got to be popular. [Ed. Note: The first Between Two Ferns starred Michael Cera, you can watch it here.] We thought that could be it, and then it turned out that Jimmy Kimmel was a fan of it and asked us to do one for his show. So we did that. Each time we do one of these, we think it will be the last one.
How do you keep the episodes fresh?
If talk shows got old people would not watch them five nights a week. The trick for us to keep them fresh is that I think we just try to do each one as funny as we can. We also try to challenge ourselves, like with the Oscar one we faced the challenge of interviewing that many celebrities – that many big names – in a row. The major hurdle always has to be is Zach interested in doing it. Sometimes there are ideas that we are all on board with, Zach included, and we just can't make them work for logistical reasons. There are other ideas that he's not interested in doing at all. So with each idea, we just have figure out if can make it work.
How did you hook up with The Lonely Island people?
A few months back I was talking to Andy [Samberg] and he told me that they had a new record coming out around this time. I'm a big fan of theirs and worked with him in the past, but didn't think too much of it at the time, other than excitement about the record. Then I started to think about it some more and wanted to come up with a way to get Ferns involved with them. Their videos rule the internet and combining those videos with Zach's stuff, for lack of a better word, it's a marriage that would be too good of an idea to pass up. I knew there was an idea in there somewhere, but I didn't know what it was yet, but I thought it would be really cool. I wrote to Zach about it and I never heard back from him. Around the time of the Oscars I checked back in with him and it turned out he had never read the email. He was immediately on board. I reached out to Andy and the guys and they were interested. They listened to the album and hit on the idea of Spring Break Anthem.
How did you get James Franco involved?
The trick for us was figuring out what we would do together. Once we knew it was the spring break one we thought it would be Zach interviewing The Lonely Island and they would do a live performance and then we came up with the idea of turning it into a Trojan horse where you think it's a regular episode of Between Two Ferns and then it segued into our first musical guest, which is an idea we always wanted to do. Funny or Die got involved at that point and reached out to some people and James Franco sounded like he was really into it. We knew we had him for the Ferns part and The Lonely Island guys reached out separately and he agreed to do that part, too. That was great because it really integrated to the halfs. We really lucked out with James' willingness to do stuff.
What goes into producing an episode of Between Two Ferns?
It's a great group effort. We just try to get it done in the most fun way possible. All talk about ideas, we all pitch possibilities. There's a lot of experimentation when we do them, even on the day we do them, we experiment to see what will be the best and what's fun.
Is music going to get a bigger role on future Between Two Ferns? It seems like a natural fit.
I don't want to spoil them but we have some ideas. If we ever do another Ferns again. We have no idea if we will ever do another one. But I think it's really cool that The Lonely Island guys put this out as the first shot off the bow for their new record. I was really happy that they made this the new single from the new records and what they did with this video was amazing. It really blew me away, especially because the song is construed as a more controversial choice that not everyone agrees with. Some people do not agree with the gay marriage part of it, if you read the YouTube comments.
Wait, you read the comments?
The comments are a graveyard. But I think it's really funny that people think that the YouTube comment section is a good platform to debate their views on gay marriage.
Watch Between Two Ferns and The Lonely Island's "Spring Break Anthem" now:
Want the latest news from Comedy Bang! Bang!? Like them on Facebook and follow them on Twitter@comedybangbang and use the hashtag #cbbtv.
Comedy Bang! Bang! returns to IFC this summer