Bomb Squad: Why Did "Peeples" Tank?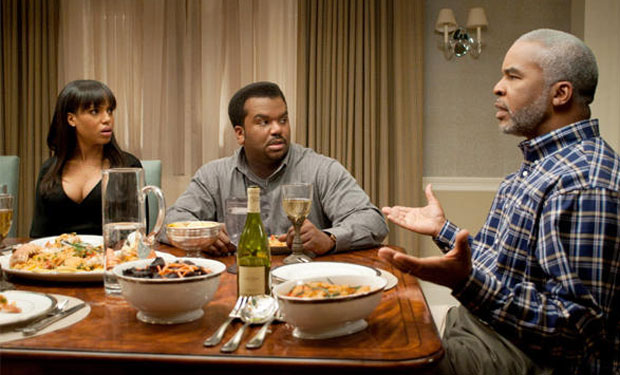 Posted by Tim Grierson on
Welcome to "Bomb Squad," a recurring column that takes a closer look at a movie that tanked at the box office and tries to figure out what happened.
May has long been the official kickoff for summer movie season, but that doesn't stop studios from slotting the occasional comedy as effective counterprogramming to all the superhero films. Unfortunately, that didn't work with "Peeples," a "Meet the Parents"-esque comedy that, despite the presence of "Tyler Perry Presents" in the title, failed to do well in its opening weekend, grossing less than $5 million and finishing in fourth place. (Even the commercially disappointing "Pain & Gain" did better last weekend.) What exactly happened here? Let's take a look at some possible theories, some more convincing than others, and then reach our verdict…
Theory No. 1: Craig Robinson is not a movie star.
Audiences like Craig Robinson. He became a breakout star thanks to "The Office," and he's been funny in everything from "Zack and Miri Make a Porno" to "Hot Tub Time Machine." The problem is that those movies weren't hits. (The one really successful film in which he's had a substantial role, "Pineapple Express," boasted several much bigger names.) Even his rise on "The Office" was during the post-Steve Carell period when the sitcom stopped winning Emmys and started losing some of its hip cachet. At this stage of his career, he's a welcome presence, but he's not necessarily a huge factor in driving people to the theater.
Theory No. 2: Tyler Perry's name isn't what it used to be.
For almost a decade, Perry has been a consistent commercial force. None of his films have been $100-million blockbusters, but he can deliver solid crowds on low budgets. He's such a brand that you'd assume that slapping "Tyler Perry Presents" on top of "Peeples" would be a stamp of approval for his fan base, even though Perry didn't write or direct (or star in) this comedy. ("Peeples" is the feature directorial debut of writer-director Tina Gordon Chism.) No doubt some will now suggest that Perry's power is waning. After all, his bid to become an action-thriller hero in last year's "Alex Cross" tanked. But let's not rush to judgment: This March's "Temptation: Confessions of a Marriage Counselor" did quite well by his standards, especially when you consider he wasn't in it and the film was a drama, which tend to do less well than his Madea comedies. Even if Perry's brand has lost a little of its luster, the man still has his commercial clout. (He's got "A Madea Christmas" coming out this December. Who would bet against its chances?)
Theory No. 3: It looked pretty generic.
The ads for "Peeples" seemed to play it safe, figuring that folks would be intrigued to check out Robinson trying to win over his girlfriend's distrustful father (David Alan Grier). It looked like another "Meet the Parents" … maybe too much like one. There wasn't anything particularly compelling or uproarious about the commercials. (Frankly, the ads gave off a sitcom-y vibe.) That hasn't hurt Perry-related projects in the past. To be blunt, the promotion of his films has always been a bit drab, except when it comes to his posters. Still, "Peeples" screamed "rental," which may be where it ultimately finds its niche.
Theory No. 4: Everybody was too busy seeing "Iron Man 3" and "The Great Gatsby."
The point of counterprogramming is to target a sizable audience that isn't that interested in the weekend's big release. And when done right, it can pay off. Some recent success stories are Fox's decision to pit "The Devil Wears Prada" opposite "Superman Returns" or when Fox Searchlight released "The Best Exotic Marigold Hotel" the same weekend as "The Avengers." In both cases, the underdog went after a crowd — women and older audiences, respectively — that might like a movie that didn't feature comic-book characters. Likewise, "Peeples" catered to African-Americans and comedy fans in the hopes that they would have already seen "Iron Man 3" (which came out May 3) and wouldn't be lured by the flash and pomp of "The Great Gatsby." Whatever the strategy, it wasn't that effective: Those two movies made a combined $123 million over the weekend. It would never have been realistic to expect "Peeples" to reach those sorts of numbers, but it didn't even manage to be a sleeper surprise. It just sunk like a stone.
The Verdict
Sometimes studios roll the dice and come out a winner. Other times, you have what happened to "Peeples": mediocre reviews mixed with mediocre buzz that adds up to disappointing grosses. This movie's release was so underwhelming that there's a good chance that when it shows up on cable or DVD in the near future, a good chunk of folks won't even realize it ever came to theaters first. Let's just hope Robinson has other chances to show off his stuff.
You can follow Tim Grierson on Twitter.