"Arrested Development" photos reveal key season four scenes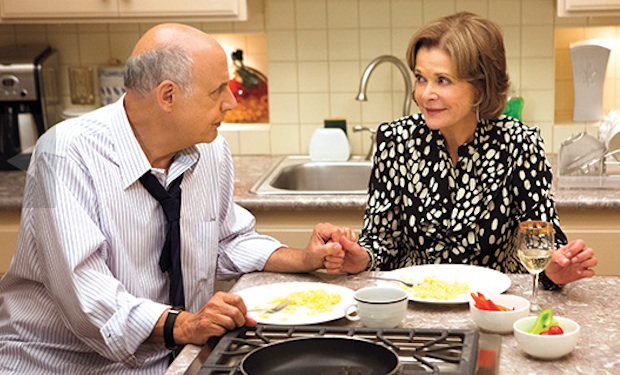 Posted by Terri Schwartz on
The fourth season of "Arrested Development" is less mthan a month away, which means the final countdown has begun for the upcoming 15 episodes. In anticipation of the show's May 26 premiere on Netflix, Entertainment Weekly has released a slew of new images — and we mean a slew.
It seems like the Bluths are back up to their same old antics, with GOB shown in classic Roman garb and Buster seemingly disguised in the L.I.T.E. Security office. Lucille and George Sr. seem to be more in love than ever, while Kitty visits Maeby in her Tantamount Studios office. That doesn't bode well.
In addition to those images, fans get their first look at Isla Fisher's character (a love interest for Michael, maybe?) and a sneak peek at Kristen Wiig and Seth Rogen's flashback sequence. There are also some photos showing the triumphant returns of Liza Minnelli as Lucille Austero and Henry Winkler as Barry Zuckerkorn.
In addition to those listed above, "Arrested Development's" fourth season marks the returns of Ben Stiller, Mae Whitman, Andy Richter, Ron Howard and Scott Baio. Meanwhile, John Krasinski Terry Crews, John Slattery, Conan O'Brien and the cast of "Workaholics" will make appearances as well. Star Jason Bateman and creator Mitch Hurwitz are hoping to follow season four with an "Arrested Development" movie.
"This year is about the enduring entanglements of family," creator Mitch Hurwitz said in a recent interview. "They are 10 years older than when we met, so that means emotionally they're, like, two years older than we met them. Amazing things happen when one goes from being emotionally 12 years old to emotionally being 14 years old."
What do you think of these new photos? Tell us in the comments section below or on Facebook and Twitter.