"Arrested Development" gets a new season four poster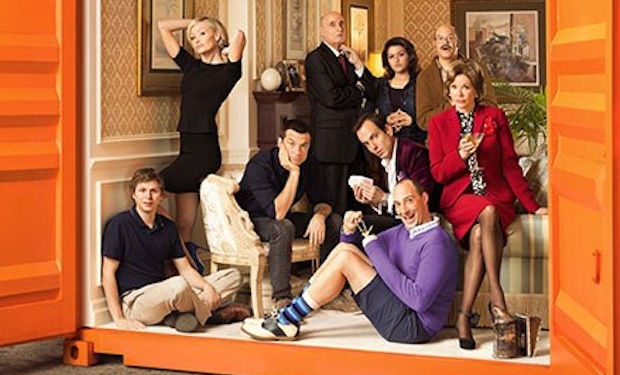 Posted by Terri Schwartz on
The Bluths are returning to us on May 26, and Netflix knows we should be thankful. The latest poster for "Arrested Development's" upcoming fourth season touts the tagline, "We've undone a huge mistake."
And so Netflix has. After FOX cancelled the series in 2006, Netflix resurrected it and reunited the original cast members for a forthcoming 15-episode fourth season. Plot points for the new storyline have not yet been revealed, but we can be sure that there will be never nudes, huge mistakes and at least one pair of incestual family members to look forward to.
Season four marks the return of original cast members like Jason Bateman, Will Arnett, Portia de Rossi and Jeffrey Tambor as well as recurring guest stars like Liza Minnelli, Henry Winkler, Judy Greer, Ben Stiller, Mae Whitman, Andy Richter, Ron Howard and Scott Baio. In addition, new actors like John Krasinski, Terry Crews, John Slattery, Conan O'Brien and the cast of "Workaholics" will make appearances as well. Star Jason Bateman and creator Mitch Hurwitz are hoping to follow season four with an "Arrested Development" movie.
"This year is about the enduring entanglements of family," Hurwitz said in a recent interview. "They are 10 years older than when we met, so that means emotionally they're, like, two years older than we met them. Amazing things happen when one goes from being emotionally 12 years old to emotionally being 14 years old."
Do you like this new poster? Tell us in the comments section below or on Facebook and Twitter.