Michael Cera and Alia Shawkat discuss sex and awkward love in "Arrested Development" season 4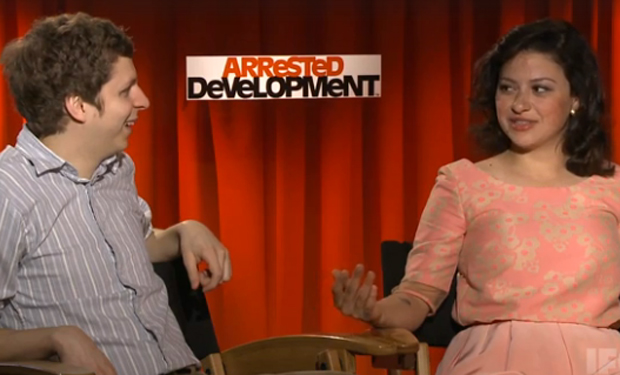 Posted by IFC on
By Michael Rougeau
It's been seven years since "Arrested Development's" third season, and in the world inhabited by the Bluth family, just as much time will have passed when the series catches up with them in season 4. Michael Cera's George Michael and Alia Shawkat's Maeby Fünke are all grown up, and when IFC sat down with the actors behind the cousins-in-love during a recent press day with the cast, they said that their relationships with their family and with one another have changed in subtle ways.
"It's kind of like in real life, like, it doesn't really change at all," Cera said. "You go home and you just regress right back into, like, the same rhythm with your family."
"Exactly. Yeah, you're able to maybe not text them as much, because parents don't know how to text very well," Shawkat said. She added that "there's a little more, like, sexual experiences tossed in there," now that they're grown up and George Michael has entered college, "because adults have sex."
"Just to shake things up," Cera added. "Just because it's part of the times. It would be weird not to include it. It's now." The duo stifled a burst of laughter.
IFC couldn't help but ask: does that increased sexual experience have anything to do with the fact that by the end of season 3 of "Arrested Development," George Michael and Maeby had discovered that they're not actually related?
"Good segue," Cera said, laughing. But he wouldn't reveal how things between the awkward couple play out. Shawkat's lips were sealed as well; both pretended they had forgotten what happens, swearing they were "not trying to be smug." But smiles tugged at the corners of their mouths, giving them away.
video player loading
.
.
.
Neither had any trouble recalling favorite moments from past seasons, though. "I like when Buster has Franklin, the puppet, and he's like yelling at Lucille. That makes me laugh so hard," Cera said
"Because he's, like, only able to express himself through the puppet," Shawkat added.
"Yeah, just this bottled-up rage coming out," Cera continued. "And you actually see a camera man. In that moment you see a snippet of a camera man but I guess they just kept it because it was like incredibly funny."
Shawkat continued, "There's a very few moments too where they actually, like, wink, like on the boat I think in the final episode — or was it the pilot? It's one of the bookends — where he's like running up the stairs and the camera guy, you see his feet. Because it is a documentary."
"In the courtroom, the judge actually looks at the camera, acknowledges the camera at one point," Cera added.
Season 4 of "Arrested Development" holds to a slightly different format than the show did in the past, with individual episodes focused on specific characters. There are other changes too, and Cera and Shawkat explained that there will be just as many new jokes as there are old ones making a return.
"There's a lot of new ones. It's harder for me to remember which old ones are called back than to think of, like, the new ones that become recurring this season," Cera added. "There are some new jokes that are all throughout the season that make me laugh so hard."
"Which I liked," Shawkat added. "How did [show creator Mitch Hurwitz] say it? He didn't want it to be, like, an old classics kind of thing? A best of."
There are also plenty of new guest stars, and the duo said it was "really cool" seeing new characters come to life in the world of Bluths. "I got to work with Eli Vargas," Shawkat said. "Great guy. Huge in Spain. He's a heartthrob there. Who else? Terry Crews, he was really funny."
"It's really cool seeing new characters actually come into play, and like, because it brings out different quality in our characters," she continued.
"That these people exist in that universe," Cera interjected.
"Yeah exactly, like there's other people in this world, and yeah, and they have such strange guest stars that they wrote in. It's just, like, some weird shit," Shawkat finished.
So will the on-again, off-again, awkward-forever couple finally get together in season 4?
"It's hard to actually say what happens without giving, like, major story points away I think," Cera explained.
Their relationship "evolves," Shawkat said, but "it's arrested in its change."
"Arrested Development" season 4 will air on Netflix in its entirety beginning May 26. Keep an eye out for IFC's interviews with the rest of the show's cast as the premiere approaches.
What is your favorite recurring joke from "Arrested Development"? Tell us in the comments below or on Facebook and Twitter.