First-ever Andy Kaufman album due out in July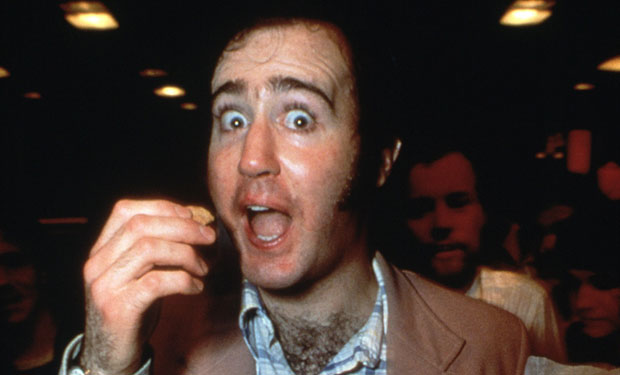 Posted by David Wolinsky on
Everyone's favorite male-on-female wrestler and bizarro comedian, Andy Kaufman, is still accomplishing things in his career despite having died in 1984: His first-ever album, "Andy and His Grandmother," is slated for a July 16 release from independent record label Drag City. It isn't a live album or anything like that; it's a disc culled from "82 hours of micro-cassette tapes that Andy recorded during 1977 to 1979," according to a press release.
Longtime fans may remember Kaufman, as a child, would record himself in his bedroom entertaining imaginary audiences and himself. These are not those tapes. Instead, the album is a document of time Kaufman spent messing with his friends and total strangers out in the regular world.
Writer Vernon Chatman, of "Wonder Showzen" and "Delocated," was tapped to work with editor Rodney Ascher to excise the best bits. "SNL's" Bill Hader provides narration — which is probably exactly how Kaufman intended for this to be heard.
Nevertheless, it's a CD made of stuff we didn't even know Kaufman made, so it should be pretty dang interesting. Here's the track list:
Andy Is Making A Record
Andy And His Grandmother
Andy's Land Live
Andy Loves His Tape Recorder
Slice Of Life
Andy Goes To the Movies
Kick In the Pants
Andy Can Talk to Animals
I'm Not Capable Of Having A Relationship
Hookers
Andy And His Grandmother Go For A Drive
Sleep Comedy
[HONK] vs. [DOG] A
[HONK] vs. [DOG] B
Andy Goes For A Taxi Ride
Andy's English Friend Paul
I Want Those Tapes
Will you be picking up Andy Kaufman's album? Tell us in the comments below or on Facebook and Twitter.