Amy Poehler predicts the future on "The Chris Gethard Show"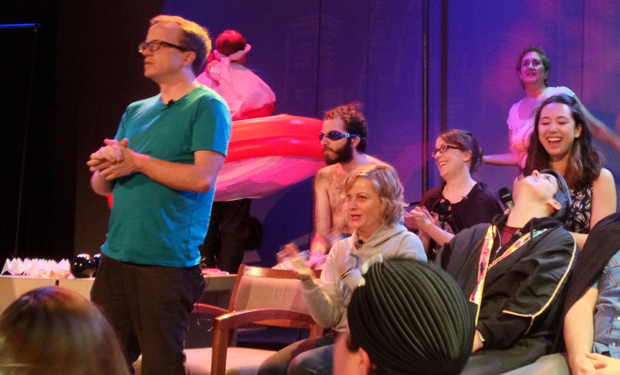 Posted by IFC on
By Patrick Cotnoir
The feeling in the crowd this past Wednesday at "The Chris Gethard Show" was electric. Coming off of the previous week where Zach Galifinakis cut audience members' hair, many people wondered what Chris & Co. would do next?
On a show where anything is possible, of course the answer was predicting callers' futures with "Parks and Recreation" star Amy Poehler.
The night ranged from a caller asking the future of his couch to Amy meeting "Gethard Show" fan and occasional host, 17-year old comedy enthusiast Alyssa (See one of her previous appearances here, with guests Jack McBrayer, Bobby Moynihan, and "Pitch Perfect" writer, Kay Cannon.)
The cast predicted many futures throughout the hour on the air, even though Ms. Poehler warned them that "they may not want to know the answers!" Employing the help of tarot cards, fortune cookies and Magic 8 Balls, the cast answered calls from everywhere from Florida to Ontario to Tokyo.
Check out the full episode below: