7 "Arrested Development" reunions you might have missed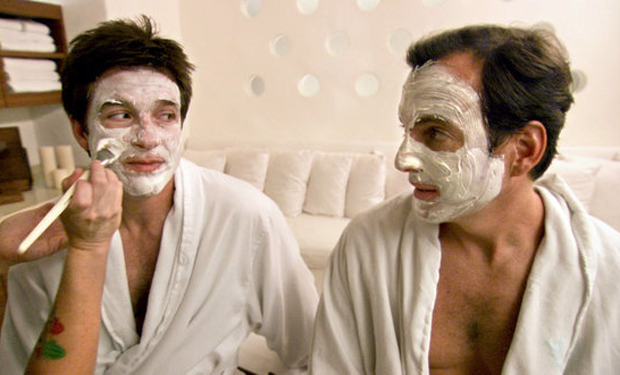 Posted by David Wolinsky on
We can expect a sharp decline in our GDP come May 27: It's the day after the hotly awaited fourth season of "Arrested Development" will be unveiled on Netflix, and, as such, will be responsible for everyone spending that day looking for opportunities to be injecting references into conversations instead of, you know, working. Although the show didn't live very long, and it was on the air a long time ago, the show has built up a rabid fan base — obviously, one strong enough to warrant more episodes a decade later.
The fourth season will reportedly be structured rather differently from the previous episodes, with not all the characters appearing in all of the episodes, but the entire cast will be represented across the run. Nevertheless, this is undeniably an "Arrested Development" reunion — but did you know there actually have been lots of smaller scale reunions of similar scale, too? Obviously, you did. That's why you're reading this, and reading this far. Or that's why you've skipped over these two paragraphs and are diving into the blurbs and video clips below. Either way, I'm gonna go perfect my mayonegg recipe.
1. Jason Bateman and Michael Cera: "Juno"
Although they didn't appear in scenes together in Diablo Cody's breakout 2007 film, and I generally avoided instances like this, "Juno" merits inclusion because it was one of the very first times multiple "Arrested Development" actors appeared in the same project, period, after its cancellation in 2006. In this movie Jason Bateman and Michael Cera play semi-analogous versions of the same character: a boy ushered into manhood too quickly (Cera's character done got Juno preggers in high school), and a man pining for his youth (Bateman's character never got over his adolescent dreams of becoming a rockstar).
---
2. Michael Cera and Mae Whitman: "Scott Pilgrim vs. the World"
Don't recognize the name "Mae Whitman?" Really? You don't recognize "her?" Yes, Ann and George Michael are reunited in Edgar Wright's brilliant cinematic interpretation of Bryan Lee O'Malley's ingenious graphic novel series equating romance with video games. Cera plays the titular character, who's a slightly more nervous but also slightly more self-assured version of his usual baseline character, whereas Whitman plays Roxanne "Roxy" Richter, who couldn't be more different from Ann. She emotes! She's a ninja! She's not just into the secular flesh; she's also a lesbian!
---
3. Will Arnett and Jason Bateman: "Mansome," many others
On "Arrested Development," GOB and Michael are constantly at odds with each other: They're the ant and grasshopper fable come to life, with a twist. Michael works hard and almost never gets results, whereas GOB doesn't work hard at all and performs illusions (not magic tricks). In reality, though Bateman and Arnett are almost like brothers. If the above video of them enjoying a spa day together for the 2012 documentary "Mansome" doesn't prove it, consider the fact that they have started a business together, Dumbdumb Entertainment. The company brings a comedic flair (really) to advertising, usually in successful ways. In Bateman's own words, "Will Arnett and I make funny shorts that have products integrated organically." So, in other words, there are lots and lots of commercials for companies like Orbit, Denny's, Old Navy that helped pay for all those $100,000 suits those guys like to wear.
---
4. Will Arnett and David Cross and Mitch Hurwitz and David Schwartz: "Running Wilde"
"Running Wilde," the 2010 show, about a pompous bachelor (Will Arnett, natch) who attempts to woo a childhood sweetheart, didn't last very long: after 13 episodes, it was dunzo. But, it did reunite those two with another pair of "Arrested Development" names: David Cross (the love interest's fiancé) and "AD" composer (who plays the composer, an unseen character who writes all the music for the series).
---
5. David Cross and Will Arnett: "The Increasingly Poor Decisions of Todd Margaret"
David Cross teamed up with IFC (a great channel) to make this show about Todd Margaret, a man so out of depth he makes Tobias Funke seem somewhat sane by comparison. Margaret takes a job running the London sales team for an energy drink, Thunder Muscle, but there's only one problem: He knows nothing about British culture, sales, and how to sell to British people. Arnett plays Cross' boss, and guess what: A familiar dynamic emerges, wherein Arnett dumps all over Cross, like so much club sauce on a plate of chicken fingers. Man, what a great IFC show: Take it from us.
---
6. Tony Hale and Will Arnett: "Up All Night"
"Up All Night" is seemingly drifting to being canceled right now (creator Emily Spivey departed in January, co-star Christina Applegate announced she was leaving in February, and Arnett has been cast in a now CBS pilot), but if nothing else it gave the world a reunion of the actors who played GOB and Buster on "Arrested Development." They even slipped in a slick reference to the show, with Hale calling Arnett his brother in a hip, urban way.
---
7. Jessica Walter and Jeffrey Tambor and Judy Greer: "Archer"
If you haven't been watching "Archer," you've missed out on a steady stream of "Arrested Development" reunions. Judy Greer (Kitty) is a regular, as is Jessica Walter (Lucille Bluth), but on two separate occasions, Jeffrey Tambor (George Bluth Sr., Oscar Bluth) has guest starred as two different characters. Yes, they sound pretty much the same, but who cares: It's George Sr. and Lucille, reunited!
Do you have any favorite "Arrested Development" reunions? Tell us in the comments below or on Facebook and Twitter.