5 weird sketch shows featuring totally unexpected casts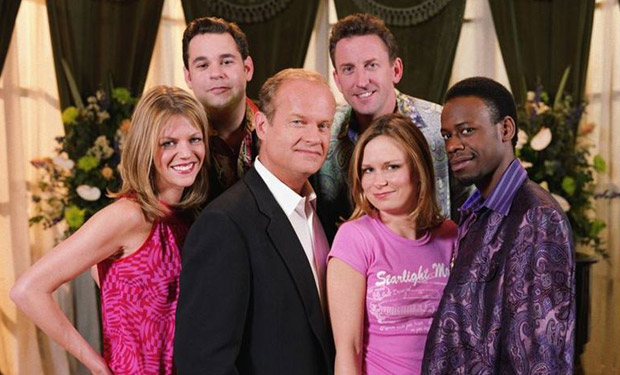 Posted by David Wolinsky on
Thanks to Twitter, forum apsecialthing, and those rare times where you co-habitate the meat-space to with your friends, there's no shortage of opportunities to talk about comedy. But, eventually, those conversations can become overly sweaty because you are inevitably discussing the same handful of names over and over again — thanks, somewhat sincerely, to the prolificness of Matt Groening, Seth MacFarlane, and, oh, let's say Jon Benjamin.
But, what if I told you there are old sketch shows out there that are long and buried, but still worth discussing? More specifically, to gush over them with befuddled excitement? Not only about their content, but also by virtue of the driving forces behind them? Well, as the headline for this piece and the last two paragraphs have indicated: I am not lying. I am, in fact, about to embark on a listicle with you, dear reader, letting you know about six bizarre sketch shows and the star power behind them that brought them to fruition.
As in, right now.
---
1. "Kelsey Grammer Presents: The Sketch Show"
There are so many kooky-ass things going on with this show, that, somehow, the man behind Dr. Frasier Crane's involvement in it somehow becomes one of the least strange things about it when you dig a little deeper. First off, this is a Grammer-produced port of an early 21st-century BBC show called, simply, "The Sketch Show." In some cases, the Fox show (yes, it was on Fox) featured exact recreations of the British show's sketches, like the "California Dreamin'" one in which the entire cast, basically, sings the wrong lyrics to The Mamas and the Papas' classic song by the same name. The show was seldom laugh-out-loud funny — it seemed to aim more for just being amusing — and that is what's the most shocking thing about it, because it was heavily stacked with Mr. Show heavy hitters (Paul F. Tompkins, Mary Lynn Rajskub) and Kaitlin Olson from "It's Always Sunny in Philadelphia." Grammer's on-air involvement rarely exceeded a Laugh-In-style transition, where he'd appear onscreen laughing hysterically and then saying, "Now watch this!" The audience rarely did either.
---
2. "The Edge"
Another Fox sketch show with another absurdly impressive cast (Jennifer Aniston, Tom Kenny, Wayne Knight) and writing staff (Charlie Kaufman, "The Simpson's" David Mirkin, who also created this show), "The Edge's" was headed by Julie Brown. (It also was co-composed by Christopher Tyng, who composes for Futurama.) As in, Julie Brown, the stand-up who was in movies like "Clueless" and "Earth Girls Are Easy" and another short-lived comedy show, "Strip Mall." What's particularly noteworthy about this 1992 show is that while it didn't pioneer it, it did beat "Mr. Show" by a few years in exploring sketches being inter-connected throughout an episode. It didn't commit as hard as "Mr. Show" did, but, then again: It didn't go quite as satirical or as silly as "Mr. Show" did, either. Still, it's pretty weird to see Tom Kenny and Jennifer Aniston in the same room together, at all, and this show is probably the only time that would ever happen.
---
3. "Doggy Fizzle Televizzle"
Snoop Dogg's short-lived 2002 to 2003 excursion into sketch comedy — which, for the record, is, as of this writing, is about as long as his excursion into reggae — may have been forgotten, but that's not because people weren't watching. And, as is the case with many of these oddball shows, they're staffed with a lot of ringers. In this case, the show was co-created by Vernon Chatman and John Lee ("Wonder Showzen," "Louie," many other shows you've likely heard of). The show had more of a variety-style feel to it and a musical guest (think "Chappelle Show"), and the show didn't take itself too seriously, which is actually why it's kinda worth tracking down. Some of the better, though fairly dated, bits included a commercial for T-Bro: a more affordable version of TiVo, which is just "a brother who watches TV and tells you what you missed." The show wasn't picked up for a second season due to payment negotiation issues.
---
4. "Exit 57"
I wouldn't say it'd come exactly as a shock to "The Colbert Report" fans that its host once co-starred in a mid-'90s Comedy Central sketch show, but "Exit 57" is so rarely discussed or acknowledged, that I'd say it's also possible that it could. More so that the show happened, not that Colbert, who came up through Second City and, of course, "The Daily Show," dabbled in sketch. Nevertheless, this show, which also featured frequent Colbert collaborators Amy Sedaris and Paul Dinello (both from "Strangers With Candy"), somehow seems to be largely forgotten. It's worth tracking down if only because it trucks in a strange mix of gee-shucks Americana spliced with screwball satire. Sometimes, as in the video above, it's not even clear what the show is mocking — more often than not, it's sketches themselves in general, it seems. What else would you expect from a man who went on to be known as a fictional version of himself by the same name?
---
5. "Juiced"
Putting it as concisely as possible? "Juiced" is O.J. Simpson's hidden-camera/prank show. Imagine "Punk'd," if that show was much, much more morally reprehensible. One "Juiced" "bit" has Simpson trying to sell a White Bronco at a user car lot and tells a potential buyer that the car runs well and that it "…it helped me get away." Yup. It's on Netflix, and it should liven up some of those discussions you're having with all your comedy buddies.
What is your favorite weird sketch show? Tell us in the comments below or on Facebook and Twitter.