10 things we hope to see in "Arrested Development" season 4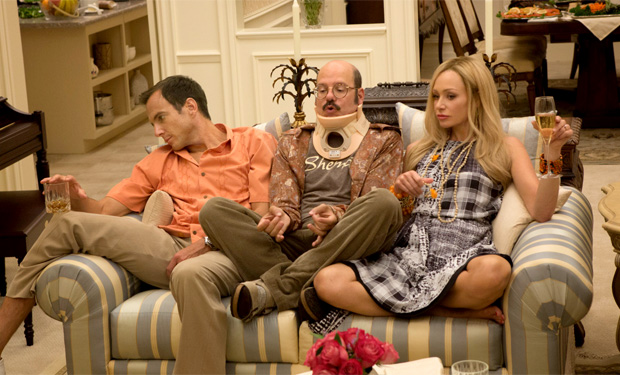 Posted by Megan Vick on
After years of "Will they? Won't they?" rumors and letdowns, "Arrested Development" fans are in the home stretch to finally see what has become of their favorite dysfunctional rich family. While we've waited for the Bluths to return to our lives we've had plenty we've had plenty of time to contemplate all the things we love about this show, and all the things we'd wish to see if it ever returned. With under two weeks to go, here is a list of 10 things we're all dying to see come May 26.
---
1. The Running Gags
One of "AD's" best attributes is the running gag. After three seasons we still cackle over Gob's chicken dance (and are convinced that Michael was right – no one in that family has ever seen a chicken), cross our fingers that Tobias will make it into the Blue Man Group or that Oscar may finally escape being duped into being George Sr.'s body double. They are the jokes that unite "AD" fans everywhere because you have to know the show to understand – and we're all in on it.
---
2. George Michael and Maeby
Finding out in the season 3 finale that Lindsay was adopted allowed the entire "AD" audience to feel much better about shipping a first cousin relationship. In season 4 we'll find out how the two handle the news – now that the taboo is finally lifted will they actually be together? Or will finally having it be okay for them to want each other ruin the appeal? Maeby is Lindsey's daughter after-all, so actually being able to have George Michael may turn her off completely. Whether it's true love or "a huge mistake," we need answers and hope it's hilariously awkward.
---
3. Michael finding a wife to help him deal with his family
While none of the Bluth clan can really claim romantic success, Michael has really had the worst of it. His wife died tragically, and the closest thing he's had to a serious relationship since then turned out to be a mentally handicapped Charlize Thereon. At the end of season 3, we're lead to believe that Michael is finally leaving behind the dysfunctional Bluths for a life of peace in Cabo. Perhaps he can find a misses there? We know he'll end up back in Orange County eventually, but maybe a new wife could help him keep his sanity.
---
4. The best guest stars
As short lived as "AD's" original cable career was, it brought in some very heavy guest star power. Most notably, the previously mentioned Charlize Thereon stopped by for a several episode story arc as Michael's almost wife Rita Leeds. The show featured other A-list super power like James Lipton and Liza Minelli in recurring roles as well. "Arrested Development" had a knack for showing us people we kind of knew but had yet to fall in love with like a pre-"Parks and Rec" Amy Poehler and Jack McBrayer before he became known as Kennth the Page on "30 Rock." Season 4 promises more of the same with already familiar faces Busy Philips, John Krasinski, Kristen Wiig and Conan O'Brien. But there are also some fresh faces like Eugene Cordero ("Kroll Show") and Ben Schwartz ("Parks and Recreation" & "House of Lies")
---
5. Self-Referential Humor
"Arrested Development" is no stranger to breaking the fourth wall, especially for the sake of the joke. When it became clear in the twilight of the third season that the show would probably not be renewed they simply stopped caring about standard sit-com rules. They called out Fox for not letting them mention other primetime shows and narrator Ron Howard blatantly requests for fans to tell their friends to watch the show, as "www.saveourbluths.org" flashed across the screen. The show was still cancelled but the plight was still comedic genius. In the same spirit hopefully the Netflix carried season 4 will make self-referential jokes about managing the big comeback, and they didn't even need a kick-starter campaign.