10 great comedies that premiered at Cannes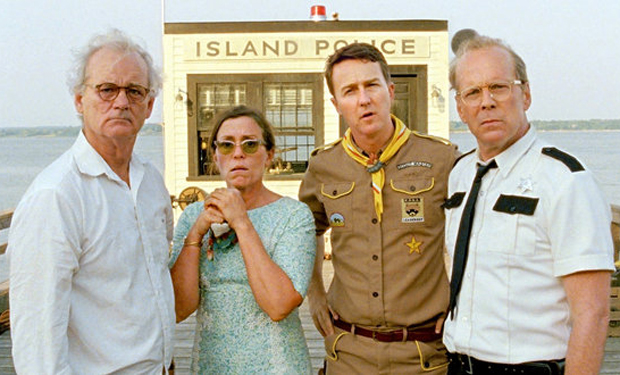 Posted by Tim Grierson on
On May 15, the 66th edition of the Cannes Film Festival will begin, kicking off 12 days of premieres of some of the year's most heavily anticipated movies, including "Only God Forgives" (the new thriller from "Drive" director Nicolas Winding Refn) and the Coen brothers' "Inside Llewyn Davis." Because of its prestige among cineastes, Cannes has a reputation for featuring the crème de la crème of world cinema, playing host to towering, ambitious movies like "The Tree of Life" or "Amour." As a result, some might assume that the festival turns its nose up at comedies, which isn't true at all. Here's a look back at 10 stellar comedies that got their official world premiere at Cannes, leaving off such classics as "M*A*S*H," "Ed Wood" and "Being There," which all screened at the festival after their theatrical release. As you'll notice from this list, the Croisette prefers their laughs with a dark edge.
"Barton Fink" (1991)
Coen brothers movies are a frequent sight at Cannes, and while many of them have had comedic elements, the funniest of the bunch was "Barton Fink," which was awarded Best Director, Best Actor (for John Turturro) and the Palme d'Or for the best film in the competition. Its central character probably wouldn't consider it a comedy, though. Fink (Turturro), a celebrated East Coast playwright recently moved to Hollywood to become a screenwriter, discovers that his dreams of making easy riches in the movie business are obstructed by writer's block, murder, and a creepily friendly neighbor (Coen regular John Goodman). A cutting satire of ego and ambition, "Barton Fink" was written by the Coens while they were stuck on their script for "Miller's Crossing." Rarely has creative exhaustion been this exhilarating.
"About Schmidt" (2002)
The Schmidt in question is Warren Schmidt (Jack Nicholson), a professional paper-pusher who's approaching his retirement with a lot more dread than excitement. Life only gets worse after his wife dies suddenly, he discovers that she was having an affair, and his distant daughter (Hope Davis) announces she's marrying a total moron (Dermot Mulroney). What could be a tragedy is instead turned into a deft, sneakily touching comedy in the hands of "Election" and "The Descendants" director Alexander Payne. Containing one of Nicholson's best late-career performances, "About Schmidt" even makes writing letters to starving kids in Africa hilarious.
"Punch-Drunk Love" (2002)
This Paul Thomas Anderson film will probably be the only time Adam Sandler shows up at Cannes. "Punch-Drunk Love" is a deeply anxious romantic comedy about a Valley man (Sandler) suffering from extreme emotional issues who falls into an unlikely courtship with a woman (Emily Watson) who seems slightly off in her own way. A precursor to last year's "Silver Linings Playbook," which also dealt with love among misfits, "Punch-Drunk Love" was misunderstood and underrated at the time, but its jittery score, unpredictable performances and confident idiosyncrasies paved the way for Anderson's bold follow-up films, "There Will Be Blood" and "The Master."
"Broken Flowers" (2005)
Filmmaker Jim Jarmusch has made several appearances at Cannes. (This year, he brings "Only Lovers Left Alive," a vampire drama with Tilda Swinton.) His 2005 entry, "Broken Flowers," is a deadpan comedy that makes you laugh so you don't cry. It follows what happens when an aging ladies' man (Bill Murray) gets an anonymous note in the mail stating that he's the father of her son. This quirky road movie draws lots of smart, subtle laughs out of Murray's reunion with several former lovers (including Sharon Stone and Jessica Lange), suggesting that sometimes it's best not to revisit the past.
"The Death of Mr. Lazarescu" (2005)
Director Cristi Puiu's dark comedy helped launch a wave of Romanian films that became the toast of international cinema. (Another entry, 2007's "4 Months, 3 Weeks and 2 Days" from director Christian Mungiu, won the Palme d'Or.) "The Death of Mr. Lazarescu" tells the seemingly sad story of retiree Lazarescu (Ioan Fiscuteanu) over the course of one harrowing night as he tries to receive medical care for extreme stomach pains. An indictment of government bureaucracy, the film quickly becomes a nightmare of indifference and incompetence that is incredibly funny, no matter how bleak the points are that Puiu is making.
"Dogtooth" (2009)
You'll never see "Rocky IV" the same after watching this twisted Greek film about one of cinema's strangest families. The father (Christos Stergioglou) has decided that he wants to "protect" his three children from the outside world, building a fence around their yard and creating elaborate stories to make them believe that there are dangers beyond the borders of their property. ("Rocky IV" is one of the few films they've seen.) The only problem is that the older kids are well into puberty and so … well, let's just say that a father's influence can only go so far. Director Yorgos Lanthimos created a film that you'd describe as a jet-black comedy or one freaky psychological horror movie — and you'd be right either way.
"Up" (2009)
"Shrek" made history in 2001 by being the first animated movie in almost 50 years to premiere at Cannes. But with all due respect to the green ogre, "Up" is the better comedy, serving as the festival's opening film eight years later. Though it's fair to complain that the movie peaks with its beautifully moving opening sequence, which chronicles the decades-long romance between Carl and Ellie, "Up" is an endless visual wonder that represents Pixar's customary balance of laughs and soul.
"The Artist" (2011)
"The Artist" defied a few movie truisms, including the belief that Cannes doesn't have much interest in comedies or that the Academy Awards wouldn't give their top prize to one. Before this film, director Michel Hazanavicius and star Jean Dujardin were simply the men responsible for the cult-hit "OSS 117" spy-movie spoofs. That all changed with "The Artist," a sweet homage to the bygone silent-movie era as Dujardin played a beloved leading man swept aside by the advent of talkies. Perhaps the movie was nothing more than a one-joke premise done with boundless affection, but audiences simply couldn't resist.
"Midnight in Paris" (2011)
Woody Allen famously refuses to let his films be part of a festival's competition slate, a principled decision that might have cost his acclaimed 2005 Cannes entry "Match Point" a prize or two. Unperturbed, he screened "Midnight in Paris" as Cannes' opening night film six years later, an appropriate choice for a festival that takes place in France. Winning Allen his fourth Oscar, for Best Original Screenplay, "Midnight in Paris" became his biggest hit in America by a wide margin, chronicling the exploits of a struggling modern-day writer (Owen Wilson at his best) who finds himself magically transported to Paris in the 1920s, a period the writer has always adored. Allen's textbook mixture of wistful romance and funny one-liners ensues.
"Moonrise Kingdom" (2012)
Following up his underrated animated gem "Fantastic Mr. Fox," director Wes Anderson returned to live action with this gentle love story about two tweens — Sam (Jared Gilman) and Suzy (Kara Hayward) — who decide to ditch their elders and run off together. "Moonrise Kingdom" features big names like Bruce Willis, Bill Murray and Edward Norton, but they seem completely superfluous in comparison to the touching, awkward romance that sprouts between Sam and Suzy. Because it's Anderson, the movie looks like nothing else out there, and its wry comic tone is just right.
You can follow Tim Grierson on Twitter.