YouTube's Comedy Week to feature Reggie Watts, The Lonely Island and more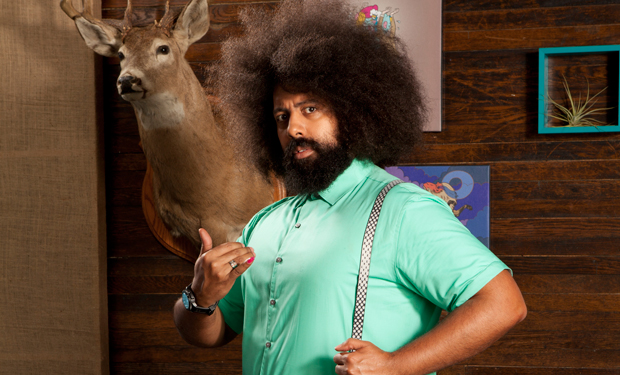 Posted by Terri Schwartz on
YouTube will be bringing some of your favorite comedians to a computer screen near you for one exciting week of comedy. From May 19 to 25, the video sharing site is going to be launching a Comedy Week featuring everyone from Reggie Watts to Epic Meal Time to Garfunkel & Oates.
"YouTube is the home of comedy for the next generation," said YouTube's VP of Marketing, Danielle Tiedt, in a statement. "If you like to laugh, come join us during Comedy Week as we celebrate the best of comedy with sketches, pranks, stand-up routines, sit-down routines, parodies, blunders, fails, live shows and unexpected collaborations in a way that only YouTube can."
The full list of comedians involved is Above Average, Barely Political, Beardyman, Craig Robinson, CollegeHumor, Ed Helms, Epic Meal Time, Epic Rap Battles of History, Eric Andre, FIDLAR, Fine Brothers, Funny or Die, Garfunkel & Oates, Grace Helbig, Gregory Brothers, Hannibal Buress, Improv Everywhere, JASH (featuring Michael Cersa, Sarah Silverman, Tim & Eric, Reggie Watts and Daniel Kellison), Jeff Ross, Jenny Slate, Jerrod Carmichael, Justin Willman, KassemG, Ken Jeong, Key & Peele, Michael Cera, Nathan Fielder, Nerdist, Norm Macdonald, Pete Holmes, Rainn Wilson, Reggie Watts, Rhett & Link, Ryan Higa, Sarah Silverman, Seth Rogen, Smosh, The Lonely Island, The Onion, Three Loco, Tig Notaro, Tim & Eric, Tummy Talk and Vince Vaughn.
Comedy Week will kick off with a pre-show at 4 p.m. PT on May 19, and then follow that with a "live, all-star comedy variety show" where featured comedians will do stand-up, sketches and even some musical performances (we're looking at you, G&O). The rest of the week will feature special live performances, curated top 10 lists, new episodes from fan-favorite YouTube channels and more. This is YouTube's first Comedy Week.
Will you be tuning into Comedy Week? Tell us in the comments section below or on Facebook and Twitter.