What to watch on IFC: An "Out There" marathon today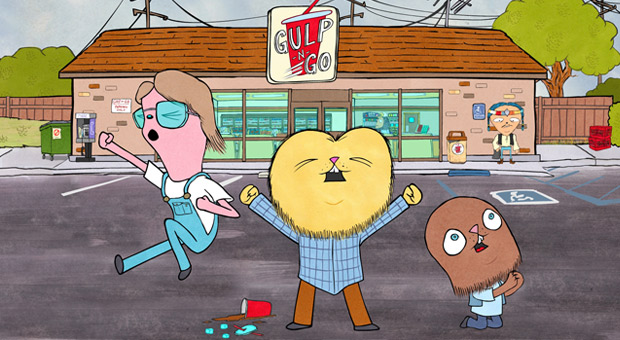 Posted by Melissa Locker on
As you know, all things come to an end. Some of those things, like, say, high school we are glad to see end. Other things like "Out There" we are less happy to let go. Before the season finale of "Out There" airs tonight at 10/9c, we are not letting the show go gentle into that good night without a marathon of every episode of "Out There."
The marathon kicks off at 5:30/4:30c with back-to-back episodes of "Out There," where we will introduce you to Chad Stevens (voiced by show creator Ryan Quincy) — a 15-year-old boy just getting by and doing the best that he can in the small town of Holford. He's a loner until he meets fellow outcast Chris. Chris hates Holford and is planning his escape, and he enlists kindred spirit Chad to help …but first they have to survive high school with as little public humiliation as possible. Which is hard, when Chad faints in class after seeing a diagram of the female reproductive system and Chris gets knocked down the bleachers during an assembly by one of the school bullies and cries out his mom — earning him the humiliating nickname "Mommy." High school is hard, but with a best friend who has your back, surviving is possible.
Out There is created, written by and executive produced by Ryan Quincy, Emmy®-award winning animation director and producer of South Park. Other notable voices guesting throughout the season include Pamela Adlon, Fred Armisen, Selma Blair, Linda Cardellini, Jemaine Clement, John DiMaggio, Megan Mullally, Nick Offerman, Ellen Page, Stephen Root, Jason Schwartzman and Sarah Silverman.
video player loading
.
.
.
Want the latest news from "Out There"? Like them on Facebook and follow them on Twitter @IFCouthere.