Tommy Chong and Cheech Marin talk "Cheech & Chong's Animated Movie"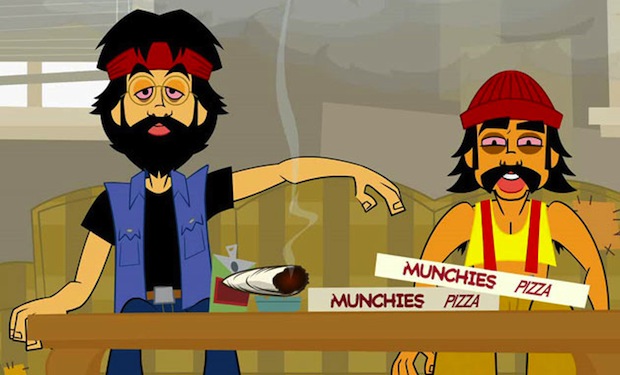 Posted by Terri Schwartz on
IFC: Clearly you guys have a small love for cannabis. In the past few years, we've seen a lot of comedians come forward and have that stoner edge, if you will; like Seth Rogen, Zach Galifianakis and there are movies like "Pineapple Express." What do you think of the new people coming forward and using that angle for their comedy?
Chong: Pot has always been a very friendly drug. When you take a hit of pot, your first impulse is to give it to somebody, and that's what we did. Humor's the same way. We never ever expected to be the only guys to do stoner humor. We're just really glad that we're the first, and to really further the cause, be it Latino or the legalization of pot.
Cheech: Yeah, God told us to do it.
Chong: God did. I talk to God all the time.
Cheech: He appears in the form of a burning bush.
Chong: He appears in the form of my wife.
IFC: What do you think that the nation is missing out on because pot isn't legal — other than being able to smoke pot?
Chong: They're missing out on a ton of money, for one thing. But it's a scam, see. They started the DEA, Nixon started it with an executive order, and they've spent some trillions of dollars fighting the weed and then haven't even made a dent.
Cheech: All they've done is spread it.
Chong: Yeah, all they did, and they affected the whole world. The whole world's been upset. That's one of the reasons we have wars — alcohol-fueled, fear-fueled, oil-based wars. If you let the potheads take over, which we're doing, we're the meek that will inherit the world.
IFC: True that. Now I'm just curious: Who in the comedy world do you guys like right now? Who is making you laugh?
Chong: I guess Louis CK is probably number one right now.
Cheech: I don't know if I follow any standup. I liked this guy, I don't even remember the guy's name. He was a Chinese guy and I can't remember his name. I saw him on TV one night, he had a standup coming from a Chinese perspective, and he said he was taking a citizenship test and they had to ask him all of these questions and one of the questions was, "What is Roe vs. Wade?" And he said, "Name two ways of coming to America." [laughs]
Chong: [laughs] "Row" versus "wade."
IFC: That's awesome.
Cheech: CRS, right.
Chong: Can't remember shit.
IFC: Tommy, what is it about Louis that you find intriguing?
Chong: Louis CK? He's on the edge. He's like [Sam] Kinison and Steve Martin and all these guys rolled into one.
Cheech: He's the comedian of the time right now, of the moment.
Chong: Yeah, of the moment. You know who else I really love is that girl who writes "Girls."
IFC: Lena Dunham.
Chong: Yeah, I think she is a genius. A genius with comedy, with everything. I mean, no one's funnier. I mean, her show, Cheech you've got to see it.
Cheech: I've seen it!
Chong: It is funny. A funny, funny show.
What are your thoughts on Cheech & Chong? Who is your favorite comedian right now? Tell us in the comments section below or on Facebook and Twitter.