Tommy Chong and Cheech Marin talk "Cheech & Chong's Animated Movie"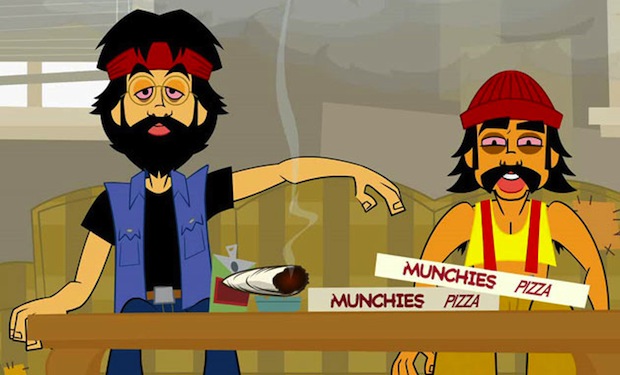 Posted by Terri Schwartz on
Cheech Marin and Tommy Chong have teamed up again in a movie for the first time since their 1984 film "The Corsican Brothers." The comedy duo are starring in animated comedy "Cheech & Chong's Animated Movie," which hit theaters on March 18 and is due on DVD and Blu-ray April 23.
In anticipation of the film's home video release, IFC caught up with Cheech and Chong to talk about their newest collaboration. The duo, who is gearing up for a tour, also opened up about their career together, their love of marijuana and the two comedians they think are the most progressive right now: Louis CK and Lena Dunham. Read the full interview below.
IFC: Where did the inspiration for this animated movie come from?
Chong: Well, the Chambers brothers, who created the characters and produced the animation movie, it was their brand child. They got our permission to do the characters and of course we had to okay all the characters and the story and stuff like that. We helped them with running it together with Buster the body crab. I was really excited about it because I've wanted to get into animation with "Cheech & Chong," to make us immortal, because we're already immoral.
IFC: Well you guys already are immortal with your comedy and your other movies.
Chong: No, we want that paycheck to be immortal. Yeah, we want that mailbox going, "Oh, another residual check." We like that. It really all goes towards golf. We're supporting golf in this world.
IFC: Do you think this could mean future "Cheech & Chong" animated movies?
Cheech: This is the first of 47 movies we have planned. I hope Fox turns us into "The Simpsons" replacement. I want to be able to come down to the studio once a week and say hi to everybody and maybe do a few hours of voiceover, walk out with a million bucks.
IFC: You worked with the Chambers brothers before on the animated game, right? Do you guys think you'll continue doing video games as well?
Chong: Yeah we did, the "Cheech & Chong" game.
Cheech: We're into everything. We've got "Cheech & Chong" apps. We're looking at a line of "Cheech & Chong" condoms.
IFC: I feel like there's a lot you guys can branch out into.
Chong: I had a girl the other night tell me about vibrating panties.
Cheech: Really?
Chong: Yeah. With a remote control. Yeah. Cheech & Chong vibrating girly panties. Your wife or your girlfriend can be sitting across from you and you hit the button and all of the sudden she'll get a real look of pleasure on her face.
Cheech: We'd like to do a video game. We're developing a couple video games through our app, which is called "The Fatty." You can have access to all the fun games we have in there. We're adding to that app all the time.
IFC: You guys have been working together for decades and clearly you both still like each other — or at least it seems like you both like each other. How has your relationship evolved over the years?
Chong: Well I'm deaf, so I don't understand half the things he's saying. And Cheech's memory it's, well, it's okay. I just recently have been diagnosed with CRS: "Can't remember shit." And he's got this habit of getting married every once in a while.
Cheech: For every marriage you've got to have a different fortune, that's what I've been told.
Chong: And we both get hungry around the same time. At the beginning we were like best friends. We've never been best friends but we're brothers. We can love or hate each other, but we're brothers. There's a blood link there. You always defend your brother. You can fight with him, but you're brothers. You can't ever sever that tie.
Cheech: It's true.