"Thor: The Dark World": Read a description of the trailer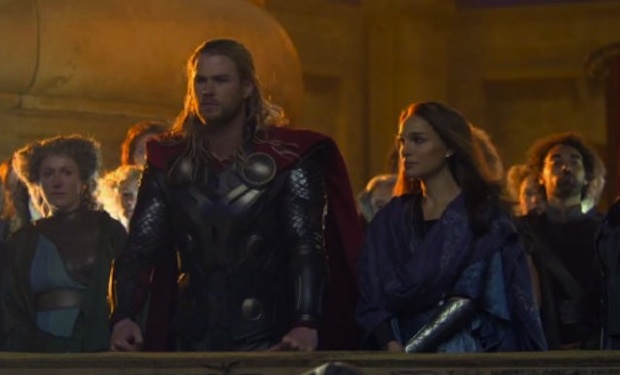 Posted by Terri Schwartz on
The "Thor: The Dark World" trailer isn't expected to be released until "Iron Man 3" hits theaters, but some lucky attendees at the Disney Consumer Show 2013 in Mexico City got an early sneak peek at the upcoming teaser. The folks over at MarvelMexico (courtesy of Comic Book Movie) were kind enough to write up a pretty detailed description of the trailer for those who want to get spoiled early. Here it is:
It starts with a voiceover, is Thor, you see some scenes of a big battle and then Jane Foster and other humans running scared cause something is "coming". Thor says: "I promised I would return for you" as we see Thor arriving Earth to take Jane to Asgard.

Apparently the fight scenes are pretty awesome, and the trailer show that Thor is out of Malekith's league, in fact we can see a very damaged and tired God of Thunder. And since he's no match for the Dark Elve, the mighty Avenger will have to search for help. This lead us to a scene where we see a big crystal prision and there's someone sit on the ground. It's Loki.

Thor says: I need your help, but if you betray me…I will kill you. Loki smiles and answers: What do I have to do?

Then we see another scene of Thor figthing Malekith while Jane is watching. Malekith looks threatening. Jane looks terrified. Thor looks overwhelmed. Malekith stares at Jane and Thor yells: NOOOOO!
Intrigued? This trailer sounds like it will show everything we're really dying to see from the upcoming movie, and we're glad it's not shy about showing Christopher Eccleston as Malekith. Too many superhero movies nowadays try to hide their villain for the majority of their marketing campaign, and Malekith is someone we're definitely excited to get a good look at.
"Thor: The Dark World" is due in theaters on November 8, 2013. It stars Chris Hemsworth, Tom Hiddleston, Christopher Eccleston, Kat Dennings, Natalie Portman, Anthony Hopkins, Zachary Levi, Alice Krige, Akinnuoye-Agbaje and Idris Elba, as well as Chris O'Dowd in a cameo role. The film will follow the plot line of Thor's confrontation with Malekith the Accursed and the Dark Elves of Svartalfheim made popular by the comic books.
This film is supposed to travel beyond the realms of Earth and Asgard that were revealed in "Thor." Concept art or shots of those locations have not yet been released, but considering "Thor: The Dark World's" release date, we likely aren't too far away from getting a trailer released.
What do you think of this trailer? Tell us in the comments section below or on Facebook and Twitter.