"Thor: The Dark World" images play up Thor and Jane's romance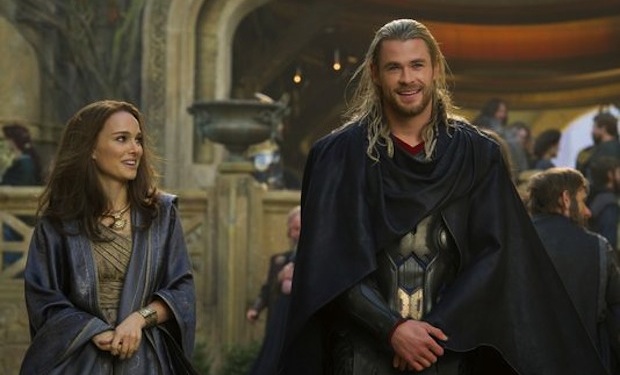 Posted by Terri Schwartz on
"Iron Man 3" hasn't hit theaters yet, but fans can already start getting excited for "Thor: The Dark World." Some new images from the movie have been released that show an early look at the upcoming Marvel movie.
The first shows Chris Hemsworth's Thor with Natalie Portman's Jane in Asgard. USA Today reveals that Jane's life is threatened so Thor needs to bring her to his home world, but that doesn't mean he's off the hook for not calling during the events of The Avengers.
"Thor still has lot of explaining to do, and a lot of making up. Even demigods end up in the doghouse, mate. So none of us is safe," Hemsworth told the outlet. Marvel Studios president Kevin Feige added of the movie's tone, "It's superhero action, but it's the familiar territory of a love triangle where the parents think your girlfriend is wrong for you. That's how the best of these movies work."
If you're intrigued by these images, you should be happy to know that the trailer for "Thor: The Dark World" is slated to drop tomorrow. Hopefully it gives us our first look at Malekith the Accursed and also a tease of what Loki will look like in this movie. As Hemsworth and Feige explained, his relationship with Thor becomes even more complicated in "The Dark World."
"Needing Loki's help turns everything on its head," Hemsworth said. "And it allows us to explore the underlying complexities of their relationship. It really ends up being a kind of chess match." Feige added, "Tom has built and shaped one of the best movie villains in years with many, many layers. It will be very difficult for Loki to lose the villain status. He has that firmly in hand."
"Thor: The Dark World" is due in theaters on November 8, 2013. It stars Chris Hemsworth, Tom Hiddleston, Christopher Eccleston, Kat Dennings, Natalie Portman, Anthony Hopkins, Zachary Levi, Alice Krige, Akinnuoye-Agbaje and Idris Elba, as well as Chris O'Dowd in a cameo role. The film will follow the plot line of Thor's confrontation with Malekith the Accursed and the Dark Elves of Svartalfheim made popular by the comic books.
What do you think of these first images? Tell us in the comments section below or on Facebook and Twitter.