"Thor: The Dark World" images show Thor and Jane Foster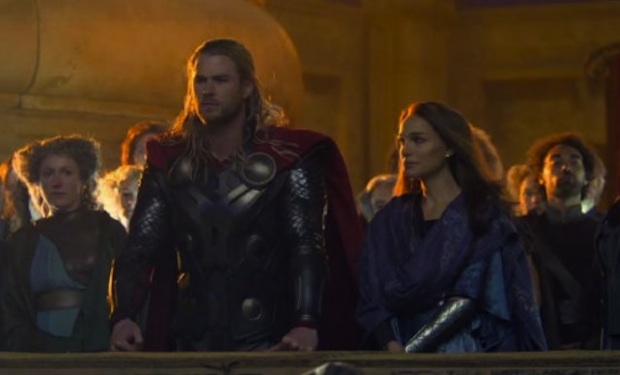 Posted by Terri Schwartz on
New stills from "Thor: The Dark World" have hit the web. They show Chris Hemsworth's Thor in Asgard with Natalie Portman's Jane Foster, and also show him facing off with the movie's enemies.
Bleeding Cool took screenshots of the images when they were shown in a Marvel Cinematic Universe: Phase Two featurette. These are the first official images that have been shared from the upcoming "Thor" sequel.
"Thor: The Dark World" is due in theaters on November 8, 2013. It stars Chris Hemsworth, Tom Hiddleston, Christopher Eccleston, Kat Dennings, Natalie Portman, Anthony Hopkins, Zachary Levi, Alice Krige, Akinnuoye-Agbaje and Idris Elba, as well as Chris O'Dowd in a cameo role. The film will follow the plot line of Thor's confrontation with Malekith the Accursed and the Dark Elves of Svartalfheim made popular by the comic books.
This film is supposed to travel beyond the realms of Earth and Asgard that were revealed in "Thor." Concept art or shots of those locations have not yet been released, but considering "Thor: The Dark World's" release date, we likely aren't too far away from getting a trailer released.
What do you think of these images from "The Dark World"? Tell us in the comments section below or on Facebook and Twitter.