This week in comedy podcasts: WTF with Marc Maron and Comedy Bang! Bang!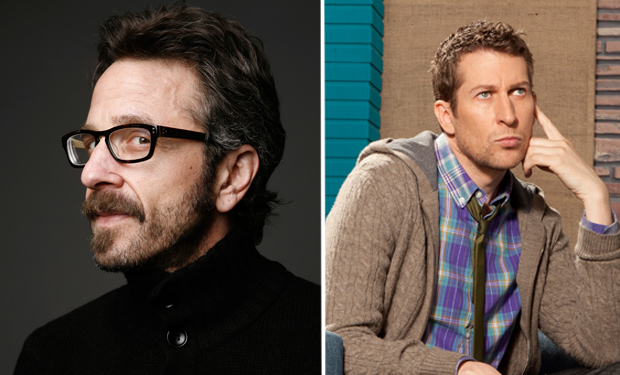 Posted by Melissa Locker on
This week on WTF, Marc Maron talked to Jim Florentine, who Marc describes as embodying the spirit of a Rock and Roll Comic. During their conversation, Jim tells Marc how he started out as Jammin' Jim, how he wound up as a favorite on Howard Stern, Crank Yankers and as an opener for Andrew Dice Clay, and how he took a tragic episode of his life and found a way to help people get through their own dark times. Download it now.
Earlier in the week, Marc made us all jealous and hungry by paying a visit to Scott Conant, who is an executive chef, a restaurateur and featured judge on one of Marc's favorite shows, "Chopped." Scott invited Marc into his restuarant to talk about putting every bit of himself on the line as a chef, not unlike stand-up comics. And he makes Marc some killer spaghetti. Download that one here.
Over on Comedy Bang! Bang!, Scott Aukerman hosted comedian extraordinaire Jerrod Carmichael, who returned to the podcast just in time to do his taxes on air. When not filling out his 1040EZ, Jerrod shards his love of triumphant white people music, explains why he saves his checks, and told everyone what he's working on this year. The proprietor of Star Graves, Joe Frances also appeared on Comedy Bang! Bang! to tell us about the different routes he takes on his dead celebrity tour, the specially tailored tours he would take Scott & Jerrod to, and unbelievable tales of the (possibly late) great Larry Fine. Respect the dead! Download that here. But you should really subscribe on iTunes.
And while not exactly a podcast, did you see that Reggie Watts released a video via JASH? And that he's heading to the Bridgetown Comedy Festival in the fair city of Portland, Oregon?
Here's the super NSFW video "If You're F*cking, You're F*cking":
Want the latest news on "Maron"? Like the show on Facebook and follow us on Twitter@IFC
Want the latest news from Comedy Bang! Bang!? Like them on Facebook and follow them on Twitter@comedybangbang and use the hashtag #cbbtv.
"Maron" premieres on IFC on Friday, May 3 at 10/9c; "Comedy Bang! Bang!" returns to IFC this summer