"The Lone Ranger" trailers feature plenty of new footage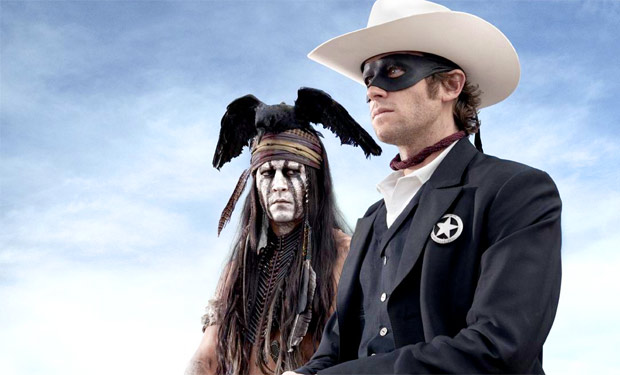 Posted by Terri Schwartz on
With "The Lone Ranger's" release little over a month away, Disney has rolled out two exciting new trailers for the upcoming movie. "The Lone Ranger" is feeling more and more like a spiritual follow-up to "Pirates of the Caribbean," and if it's anything near as good as "Curse of the Black Pearl" was, that's definitely a good thing.
The new domestic trailer provides a fairly linear look at the plot of "The Lone Ranger." It becomes clear early on that this is a revenge story for both Armie Hammer's Lone Ranger and Johnny Depp's Tonto. There are a lot of big budget scenes in this movie, and fortunately they seem to look pretty good — especially the one of the train falling down to earth shown at the end of the trailer.
Meanwhile the new international trailer gives a totally different look at the movie. It focuses less on the plot of the film and more on what Tom Wilkinson's villainous character plans. It also shows the Lone Ranger's partnership with the Native Americans and features a lot of footage from the train fight sequence, which looks to be one of the big battle set pieces in the movie.
"The Lone Ranger" tells the story of lawman John Reid's transformation into a "legend of justice," as told by his spirit warrior partner, Tonto. Directed by Gore Verbinski, it stars Johnny Depp and Armie Hammer and is scored by Hans Zimmer. The film is due in theaters on July 3, 2013.
What is your interest level in "The Lone Ranger"? Tell us in the comments section below or on Facebook and Twitter.