"The Hunger Games: Catching Fire" trailer arrives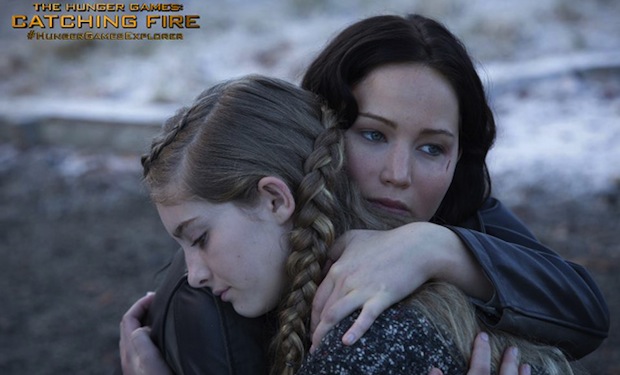 Posted by Terri Schwartz on
The first trailer for "The Hunger Games: Catching Fire" has arrived, and boy was it worth the wait. The first look was presented by star Liam Hemsworth and premiered during the MTV Movie Awards.
Basically this trailer makes "The Hunger Games" look like child's play. Katniss Everdeen's life has gotten much, much worse since she thwarted the Capitol and won the Hunger Games alongside her District 12 ally Peeta Mellark. President Snow is quite obviously out for her blood, and the people of Panem see her as a beacon of hope and are getting punished for it. Toss into that mess a shot of Gale kissing Katniss and her getting punched in the face for defending him, and our beloved heroine has got some real problems on her hands.
Philip Seymour Hoffman looks absolutely delightful as new Head Gamemaker Plutarch Heavensbee, and it seems like he'll be a great addition to the movie's cast. While we will miss Wes Bentley's Seneca Crane, Plutarch should add an interesting new development to the "Hunger Games" series.
"Catching Fire" brings back stars Lawrence, Josh Hutcherson, Liam Hemsworth, Woody Harrelson, Elizabeth Banks, Donald Sutherland and Willow Shields. It also has a whole new set of actors coming on board as well. As a quick recap, here's everyone new who's been cast in "Catching Fire" so far: Philip Seymour Hoffman as Plutarch Heavensbee, Jena Malone as Johanna Mason, Amanda Plummer as Wiress, Lynn Cohen as Mags, Meta Golding as Enobaria, Bruno Gunn as Brutus, Alan Ritchson as Gloss, Jeffrey Wright as Beetee and Patrick St. Esprit as Romulus Thread. The movie comes out on November 21.
Here's the movie's official synopsis:
"The Hunger Games: Catching Fire" begins as Katniss Everdeen has returned home safe after winning the 74th Annual Hunger Games along with fellow tribute Peeta Mellark. Winning means that they must turn around and leave their family and close friends, embarking on a "Victor's Tour" of the districts. Along the way Katniss senses that a rebellion is simmering, but the Capitol is still very much in control as President Snow prepares the 75th Annual Hunger Games (The Quarter Quell) — a competition that could change Panem forever.
What did you think of the "Catching Fire" trailer? Tell us in the comments section below or on Facebook and Twitter.