"The Hangover III" trailer arrives and Alan gets an intervention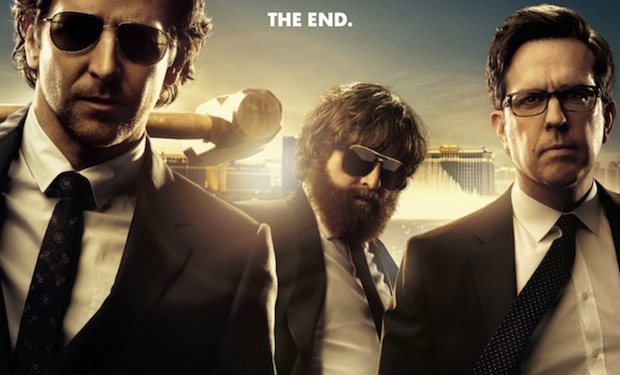 Posted by Terri Schwartz on
"The Hangover: Part III" finally has a full theatrical trailer, and now we finally understand what those involved with the movie meant when they said the final "Hangover" film will be a major departure from the previous movies. Not only does the Wolfpack decide to give Zach Galifianakis' Alan an intervention because he's been off his meds for six months, but they also get into a whole lot of trouble for their previous antics.
As it turns out, Ken Jeong's Leslie Chow stole a whole bunch of money from John Goodman's character in the movie, and now Goodman has turned to the Wolfpack to try to get it back for him. He takes Doug as leverage — poor Justin Bartha, never getting in on the action — and sends Stu, Alan and Phil off to find Chow.
It turns out that's a pretty easy thing to do because Alan is on a texting basis with the Wolfpack's former enemy. The trailer teases some of the antics the four characters get up to, and also seems like this movie will have a bit more heart than the last "Hangover" film did. That movie honestly felt a bit mean, but here it's clear that the Wolfpack is stronger than ever — a point which is made stronger by the fact Doug, Phil, Stu are sending Alan to rehab. True friendship is knowing when you need to step in, right?
In addition to the new trailer, Warner Bros. has a released another poster for "The Hangover: Part III" which can be seen below.
"The Hangover: Part III" reunites Bradley Cooper, Zach Galifianakis, Ed Helms, Justin Bartha, Jeong, Jeffrey Tambor, Jamie Chung, Sasha Barrese, Heather Graham and Gillian Vigman, while introducing new actors like Goodman and Melissa McCarthy to the franchise as well. "The Hangover Part II" is due in theaters on May 24, 2013. The logline for the movie reads, "This time, there's no wedding. No bachelor party. What could go wrong, right? But when the Wolfpack hits the road, all bets are off."
What do you think of the new direction "The Hangover: Part III" is going? Tell us in the comments section below or on Facebook and Twitter.