SNL Sketch Showdown: Wayne's World vs. More Cowbell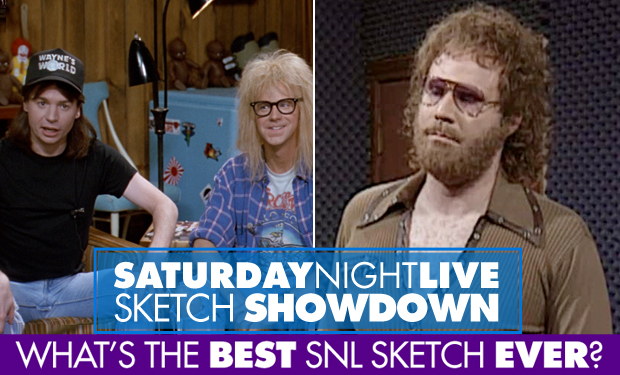 Posted by Tim Grierson on
Welcome to the "Saturday Night Live" Sketch Showdown. Every weekday, an IFC writer will determine the winner of a matchup between two classic "SNL" sketches. You can check out the full bracket here.
The Finals
The championship matchup of our "Saturday Night Live" bracket features a contrast in styles. On one side, you've got the premier sketch of the late '80s and early '90s that gave birth to a comedy franchise. On the other, you've got the best sketch of the 21st century, which, surprisingly (and happily), the show didn't decide to spin off into a recurring bit. But they also have much in common. Both highlight their respective era's biggest "SNL" star displaying everything that made them so beloved. Additionally, each sketch gave birth to ubiquitous catchphrases that have become so ingrained in the culture that some people might not even know where they originated anymore. Either one would be a worthy victor. But there can only be one winner…
The Matchup
Over the span of about five years, "Wayne's World" appeared almost 20 times on "Saturday Night Live." Developed from a character Mike Myers had honed on Canadian television, Wayne was a dorky, lovable suburban metal-head who hosts a cable-access show with his punching-bag buddy Garth (Dana Carvey). Each sketch found Wayne and Garth giddily mimicking the talk-show format — there were Top 10 lists and interview guests — and amusing each other with their litany of invented slang: "No way!"/"Way!"; "Schwing!"; "We're not worthy!"
Especially in hindsight, you can see that these guys really were the satirical poster children for a fading, clichéd hard rock scene that was about to be swept aside by Nirvana. But don't feel too bad for Wayne: Along the way, he got to make out with Madonna and jam with Aerosmith while Garth mostly tried to keep from hurling in excitement. Adding to the sketches' legacy, they birthed two movies, including 1992's "Wayne's World," still the highest-grossing "SNL" film ever. And it transitioned Myers into his film career, showcasing his boyish love for playing very silly, very quotable characters. (Austin Powers was just around the corner.)
While "Wayne's World" became a long-running cultural institution, "More Cowbell" built its legend entirely on one skit. Clocking in at just less than six minutes, the sketch aired on April 8, 2000. Constructed like a "Behind the Music" segment, the sketch purports to show unearthed footage of the recording process for Blue Öyster Cult's 1976 hit "(Don't Fear) The Reaper." On its surface, it's not a very funny idea: The band's legendary, cocky producer (Christopher Walken) encourages the guys, especially fictional member Gene Frenkle (Will Ferrell), to go crazy on the cowbell, even though the rest of the group finds it annoying. But "More Cowbell" may be the most perfectly executed sketch in "SNL" history, satirizing '70s rock, hotshot producers, artistic pretension ("Really explore the studio space this time"), unconventional instruments in rock songs, and fat guys with tight shirts. It's also the single-best thing frequent host Walken ever did on "SNL," with all due respect to the comparably nutso "The Continental" and "The Census" — which, by the way, were both part of that April 8 broadcast as well.
Ferrell reprised the character a couple times over the years, sitting in on the show's live performances, but Frenkle never appeared in another sketch. (Maybe Ferrell knew he could never top it.) And yet look how, more than a decade later, "more cowbell" is still an incredibly recognizable catchphrase, synonymous with an entire era of rock-star bloat. Ferrell has gone on to movie stardom portraying other self-important, hopelessly ridiculous bozos, but the pure commitment Frenkle brings to pounding away at that damn cowbell may be his crowning comedic achievement.
And The Winner Is…
As great as these two contenders are, neither is flawless. "Wayne's World" lost steam the more Myers and Carvey kept rehashing the sketch, resulting in quickly diminishing returns. (And that second "Wayne's World" movie sure stunk.) As for "More Cowbell," the comedy purist in us wishes that the cast members could have kept from breaking during the bit. (This was a constant annoyance during the Horatio Sanz/Jimmy Fallon era of "SNL," and it's especially irksome in a skit that requires deadpan sincerity for its humor.)
Ultimately, though, this really isn't a showdown between sketches as it is a question of what aspect of "Saturday Night Live" you love the most: a long-running, much-quotable franchise or that one impeccable sketch. After much hemming and hawing, we're going with the one impeccable sketch. Beyond all its other merits, "More Cowbell" is so fantastic because of the way it makes you think initially that it's going to be about the Walken character, suddenly flipping the script and making Frenkle the brilliant, clueless focal point. Before that sketch, people remembered "(Don't Fear) The Reaper" for its guitar riff or its chorus. After that sketch, you can't not hear the cowbell — and laugh every time.
You can follow Tim Grierson on Twitter.
Did the right sketch win? Tell us in the comments section below or on Facebook and Twitter.