SNL Sketch Showdown: Wayne's World vs. "Dick in a Box"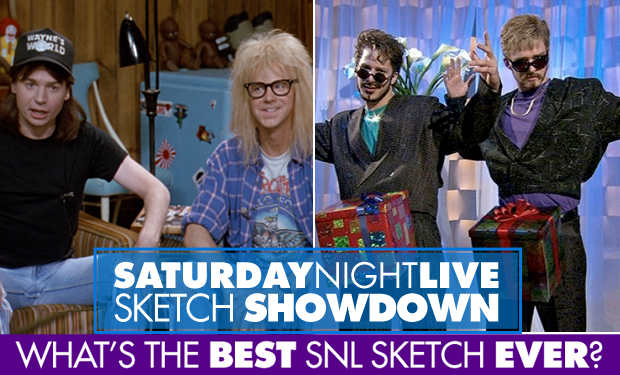 Posted by Melissa Locker on
Welcome to the "Saturday Night Live" Sketch Showdown. Every weekday, an IFC writer will determine the winner of a matchup between two classic "SNL" sketches. You can check out the full bracket here.
Sketch 1: "Wayne's World"
Mike Myers and Dana Carvey made their debut as the baseball-cap wearing, basement-dwelling hockey-loving duo of Wayne Campbell and Garth Algar during "Saturday Night Live's" 1988 season. The premise of the sketch was simple: A metalhead slacker starts a public-access television show in his parents' basement in Illinois, conscripting his best friend to be his on-air sidekick/air drummer. If this sketch had been created with different "SNL" cast members, it probably would have been a one-off throwaway. However, the sincere yet goofy chemistry between Myers and Carvey quickly catapulted "Wayne's World" into the canon of best-ever SNL sketches. "Wayne's World" became one of the most popular recurring sketches in the history of the series, with Wayne and Garth hosting everyone from Tom Hanks, who played Garth's cousin, to Aerosmith playing an extend version of the "Wayne's World" theme song. We also have Wayne and Garth to thank for phrases like "Schwing!" "We're not worthy!" "Party on!" and even "…Not!" entering the pop culture lexicon. Plus, the sketch went on to spawn not one but two movies based on the characters' adventures. The first film, "Wayne's World," was directed by Penelope Spheeris and featured Rob Lowe, Chris Farley, Meat Loaf and Alice Cooper along with Wayne and Garth. The film debuted at no. 1 and went on to earn over $121 million at the box office.
Sketch 2: "Dick in a Box"
"Dick in a Box" first appeared on "SNL" in 2006. By then, The Lonely Island crew of Akiva Schaffer, Andy Samberg and Jorma Taccone knew what they were doing in the digital short world and had cemented their reputation as the arbiters of cool via such sketches as "Lettuce" (their debut digital short) and "Lazy Sunday," which featured Andy Samberg and Chris Parnell rapping about their love of "The Chronicles of Narnia: The Lion, the Witch and the Wardrobe" among other things. During 2005 and 2006, Lonely Island already had a reputation for incorporating surprising cameos by musicians like The Strokes' Julian Casablancas, T-Pain and Michael Bolton to great comedic effect. For "Dick in a Box" they brought out the big guns to help ensure that the sketch went viral: Justin Timberlake joined Samberg to serenade Kristen Wiig and Maya Rudolph with the titular gift: their dicks in a box. With Timberlake on board with the incredibly goofy and hilariously raunchy premise – which was played completely straight – it was no surprise that "Dick in a Box" was wildly popular. "Dick in a Box" went on to win the Emmy for Outstanding Music and Lyrics in 2007 and was the first single released off of Lonely Planet's album "Incredibad."
And the winner is…
"Wayne's World."
While "Dick in a Box" may have rocketed Lonely Island into internet stardom, it was just a one-trick pony, albeit a hilarious one, but whose longevity has yet to be proven. On the other hand, "Wayne's World" is the skit that keeps on giving. Two movies, a video game, a soundtrack album and innumerable catch phrases all came out of Wayne's mom's basement. Even in 2011, years after both Mike Myers and Dana Carvey left the set of SNL, Wayne's World appeared as a cold open with Wayne and Garth discussing their Oscar picks and the results were still laugh-out-loud funny. Party on, Wayne.
Did the right sketch win? Tell us in the comments section below or on Facebook and Twitter.