SNL Sketch Showdown: Wayne's World vs. Bill Brasky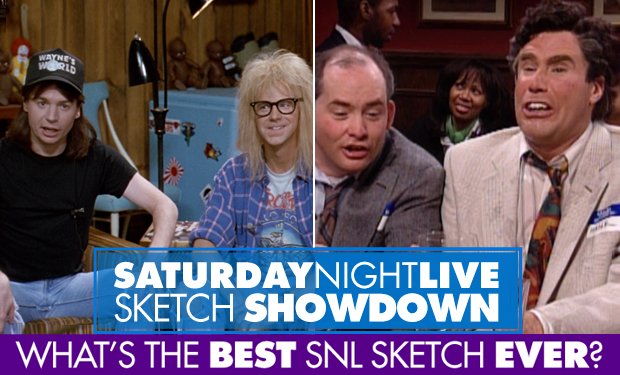 Posted by Andy Hunsaker on
Welcome to the "Saturday Night Live" Sketch Showdown. Every weekday, an IFC writer will determine the winner of a matchup between two classic "SNL" sketches. You can check out the full bracket here.
Mainstream vs. Cult Status
This one is an interesting match-up of sketches that couldn't be more different. One is a long-running character-based effort that became a pop culture phenomenon and managed to get two movies made out of it and the other is an over-the-top festival of hilariously boisterous obnoxiousness. It seems a bit like an open and shut case, right?
Sketch 1: Wayne's World
Now, in 2013, it's easy to dismiss Mike Myers and Dana Carvey's old characters of Wayne Campbell and Garth Algar as expired relics of the late 80s and early 90s – something as beaten into the ground as Austin Powers or Shrek. It became so ubiquitous that all the "schwings" and the "party ons" and the "butt monkeys" feel dated and old hat these days. But schticks aside, what makes "Wayne's World" great is its versatility. There was a lot of room within the core concept of two juvenile teenage rock fans hosting a public access show in their basement to turn it into whatever it needed to be to tweak with the news of the day. Whether it was an idiotic take on simple Oscar picks, Bruce Willis playing the coolest guy in school introducing new cool words for the year, or a full-on fantasy dream sequence where Wayne winds up in Madonna's "Justify My Love" video complete with actual Madonna, you could really do anything with these guys. They connected to audiences in part because there was only a thin veneer of unreality separating most viewers from being Wayne Campbell themselves. He was a guy you could see hanging out with, in a basement you've probably been in before. Wayne was more character than caricature, a long-standing creation of Myers' that pre-dated "SNL," and that gave him the range and depth to last for a long time in the American consciousness. Plus, they got Aerosmith on the show to discuss the collapse of the Soviet Union while Roadie Tom Hanks blurted into microphones about sibilance. You know, there's never been a blueprint for the dictatorship of the proletariat, so there's bound to be some mistakes. However, if you study history, you'll see that, since the rise of the nation-state, socialism has been an historical inevitability, dude.
Sketch 2: Bill Brasky
Don't count those Bill Brasky Buddies out right away. It's so weird that it feels like it could have been a "Kids in the Hall" piece – which makes sense, what with Mark McKinney being there from the get go. They may have only had a total of five sketches , and it may have been repeating the same theme of a group of loud, drunk, horrible businessmen vociferously extolling the virtues of their cult hero son of a bitch's exploits while occasionally blurting out awkward personal secrets, but it was a perfect satire of macho asshole-deification culture and a treasure trove of insane one-liners. "Brasky would use his own thigh as an anvil." "He killed Wolfman Jack with a trident." "He had dandruff the size of mice." "His poop is considered currency in Argentina." "He once ate the Bible while waterskiing." The absurdity of ridiculous things like this coming out of the screaming, slurring fake-toothed faces of McKinney, Will Ferrell, Alec Baldwin, John Goodman and David Koechner, mixed in with confessions like "I don't have a penis!" and "I'm a convicted sex offender!" – well, it all makes the Brasky sketches awkwardly mesmerizing. Something about Will Ferrell being really loud is funny more often than not. Improvisational non-sequiturs are comedy gold, and it feels like a sketch tailor-made for Goodman, playing a broken drunkard who could easily be some distant relation to Walter Sobchak.
And the Winner Is…
All in all, while Brasky is a great show closer, creating that last-call "get out there and go crazy" weirdness that thrives when nearing the 1:00 hour, when it comes down to it, you have to hand it to "Wayne's World," a catchphrase factory which left an indelible mark on Saturday Night Live history. It's pail, it's totally bucket to see the Bill Brasky Buddies go, but those guys are pretty sphinctitious when you get down to it. They dabble in the ways of sphinctery. One might say they're off the sphinctometer. We have seen the sphincter, and it is Bill Brasky.
Did the right sketch win? Tell us in the comments section below or on Facebook and Twitter.