SNL Sketch Showdown: Samurai Delicatessen vs. James Brown Hot Tub Party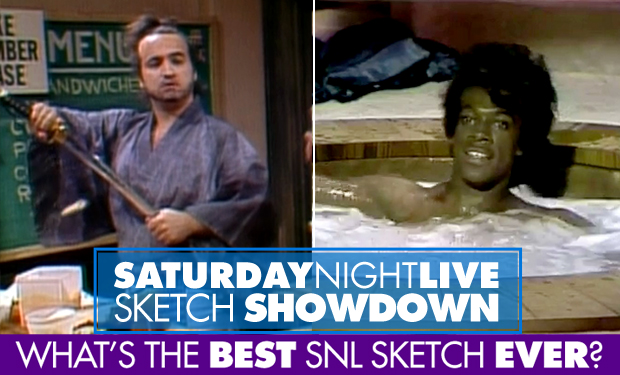 Posted by Andy Hunsaker on
Welcome to the "Saturday Night Live" Sketch Showdown. Every weekday, an IFC writer will determine the winner of a matchup between two classic "SNL" sketches. You can check out the full bracket here.
Belushi vs. Murphy
This one is a tough call, although it would be a much different story if it wasn't for "James Brown's Celebrity Hot Tub Party's" improbable, last second, against all odds, miracle comeback victory against the heavily favored media-skewering genius of "Buckwheat Is Dead" that defied all expectations. But that's why they play the games.
The Matchup
On one hand, you've got the raw power of John Belushi, perhaps the best in the game in his prime, wielding a motherscratchin' katana. There's just an element of madness that puts you on the edge of your seat when the hands-down most dangerous member of the original Not Ready For Prime Time Players is swinging a sword around – and the fact that he's good enough to slice a tomato in mid-air adds a little something to that mystique. Then there's just the amusing notion of an ancient Japanese warrior of honor serving sandwiches to schmucks in New York – therein lies the central joke, of course, especially with Buck Henry seeing absolutely nothing out of the ordinary about it. Hell, Henry's nattering on about football while the Samurai Futaba prepares his order could be an added bit of commentary about how much people in food service don't give a damn about whatever inane blather comes out of your face, and how compelled we are to make inane small talk anyway. The samurai is not interested in your gambling problems! He is there to prepare meals honorably – so much so that he will commit seppuku if you impugn the quality of his sandwich artistry! It's a funny overreaction that makes us smile, but it's also something those empathic types among us worry about when someone gets our order wrong and we're deciding if we should complain (although the bigger fear is usually whether or not we'll be served food covered in spit and boogers afterwards). Anyway, "Samurai Delicatessen" ends with a satisfying bit of destruction, because let's face it, it's always a treat to watch Belushi destroy something. It's visceral.
On the other hand, you've got 22-year-old Eddie Murphy without all the trappings of today's Norbitty version of the man. He's young, he's raw, he's energetic, and he was the best thing about "SNL" of the early 1980s. It's capitalizing on his notable ability with impressions, especially with The Godfather of Soul James Brown, whom Murphy also spoofed in his hit stand-up special "Delirious" as being famously unintelligible. It's musical, which makes it that much more likely that "Hot Tub! Hah! Rub-a-dub inna Hot Tub!" will become an indelible part of our brains, randomly popping into our heads when we're doing laundry, or just walking down the street, where it will also make your body start to strut not like the actual James Brown, but like Eddie Murphy's version of James Brown. He actually ties in Brown's trademark "HEAAYYY!" with hot tub water being too hot… because this is a sketch called "James Brown's Celebrity Hot Tub Party," which is just a hilarious phrase in and of itself, and it's about James Brown hosting a show where celebrities hang out in a hot tub with him. The ending image of old talk-show staple Dr. Joyce Brothers in a hot tub with James Brown is all you need to see. Many other "SNL" sketches will take that concept and stretch it out until the cute initial concept becomes an old joke by the time it finally goes to commercial. But not "James Brown's Celebrity Hot Tub Party." It's just a little over two minutes, in and out, hilarious and done, leaving you wanting more without actually giving you more that would probably only dilute that absurd genius anyway. Really, if it kept going, it'd just be a "What Up With That" sketch – maybe even with Joe Piscopo bouncing around in a track suit, too. To top it all off, there are a couple of moments where Murphy almost breaks, and audiences tend to love that in moderation (and not the Jimmy Fallon overdose). There's not an awkward silence to be had.
And the Winner Is…
With all that in mind, it becomes clear why the scrappy upstart one-and-done "James Brown's Celebrity Hot Tub Party" managed to beat the longer, more complex single-show-multi-sketch effort of "Buckwheat Is Dead." It set an amazing standard that most "SNL" sketches don't follow. Yes, we do like to see sketches and characters we enjoyed again and again, such as "Samurai Tailor," "Samurai Dry Cleaners," "Samurai Psychiatrist" and even "Samurai Night Fever," but all too often they start to wear out their welcome. Not "James Brown's Celebrity Hot Tub Party," though. High concept, efficiently executed, ridiculously funny and a catchy earworm. Plus, we don't have to start wondering whether a white guy muttering in fake Japanese is kind of accidentally racist or not.
WINNER: James Brown's Celebrity Hot Tub Party
Did the right sketch win? Tell us in the comments section below or on Facebook and Twitter.