SNL Sketch Showdown: Samurai Delicatessen vs. Consumer Probe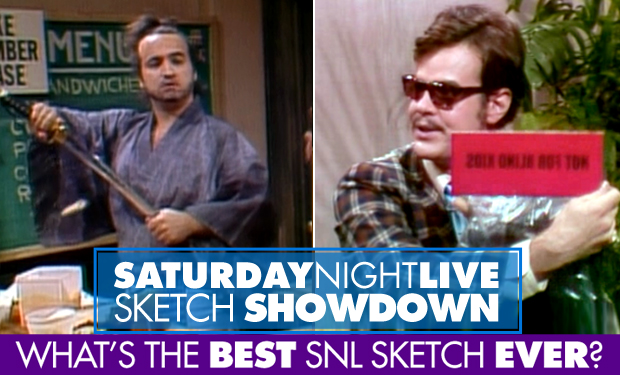 Posted by Rick Marshall on
Welcome to the "Saturday Night Live" Sketch Showdown. Every weekday, an IFC writer will determine the winner of a matchup between two classic "SNL" sketches. You can check out the full bracket here.
Battle of the Blues Brothers
This round of our "SNL" Sketch Showdown pits two skits from the classic era of the series against each other, and two larger-than-life actors who went on to big things outside the series. One sketch features a eccentric outsider who lets his sword do the talking, and the other features a slimy exec who lets his company's questionable products speak for themselves (when they're not endangering children, that is).
The Sketches
Sketch 1: Samurai Delicatessen
John Belushi's out-of-place samurai was a last-minute addition to a January 1976 episode of "SNL," but it went on to become a recurring character in over a dozen sketches, and even made cameos in several musical performances and – outside the "SNL" universe – in a pair of comic books (including a 1978 issue of Marvel Team-Up). Whether he was making a sandwich or repairing a television, Belushi's samurai (a comical take on actor Toshiro Mifune's characters in Akira Kurosawa's classic samurai films) offered a great showcase of the "SNL" star's knack for physical comedy and ability to not only play off of any guest, but capture the audience's attention no matter who was hosting the episode. Samurai Futaba remains one of the most iconic "SNL" characters portrayed by Belushi, one of the series' greatest stars.
Sketch 2: Consumer Probe
Dan Aykroyd's long list of memorable "SNL" contributions includes quite a few characters of questionable morals, but few were as sleazy as Irwin Mainway, the purveyor of insanely dangerous children's toys such as "Bag O' Glass" and "General Tranh's Secret Police Confession Kit." Each iteration of the sketch seemed to offer even more terrible toys than the last, with Aykroyd defending the products with that much more enthusiasm. Much like Bill Hader's popular "Stefon" segments on "Weekend Update," this sketch relies on outrageous lists that become more ludicrous with each element and the dead-panned delivery of the sketch's star – something Aykroyd was more than capable of providing.
The Matchup
The success of Belushi's samurai sketches rests entirely on their star's shoulders, and like so many of the gone-too-soon actor's performances, the character he plays is just as funny now as he was almost four decades ago. On the other side, Aykroyd's "Consumer Probe" sketches also manage to generate a lot of laughs years after they aired, thanks to the (unfortunate) existence of just as many questionable products today that are being passed off as safe. Sleazy spokespeople will always be around, making Irwin Mainway's dismissal of concerns about an astronaut helmet made out of a plastic bag with a neck-band the joke that never gets old.
And the Winner Is…
Samurai Delicatessen
Funny lists are one thing, but a consistently hilarious performance that relies so heavily on both physical acting and subtleties (like the intonation of Belushi's "Japanese" gibberish) pushes Samurai Futaba to the top of this matchup. From the very first "Samurai Delicatessen" sketch that started it all, this recurring series represented exactly the sort of offbeat, clever comedy that made "SNL" such a showcase for tomorrow's stars, and offered just a taste of Belushi's talents as one of the show's best and brightest.
Did the right sketch win? Tell us in the comments section below or on Facebook and Twitter.