SNL Sketch Showdown: Palin/Hillary Cold Open vs. Bill Brasky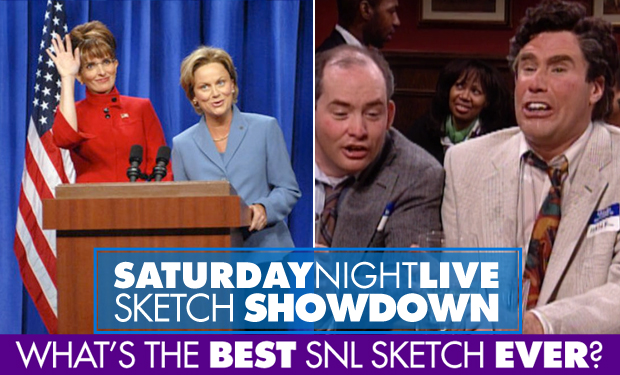 Posted by David Wolinsky on
Welcome to the "Saturday Night Live" Sketch Showdown. Every weekday, an IFC writer will determine the winner of a matchup between two classic "SNL" sketches. You can check out the full bracket here.
Greatest Cold Open Versus Best Last Sketch Of The Night
You've undoubtedly heard the phrase "in like a lion, out like a lamb" as it applies to March's weather, but it also totally applies to "Saturday Night Live." The show has historically always put its strongest sketch right after the monologue (not counting the commercial parodies) to keep you hooked at least until "Weekend Update," and then, you know, all bets are off after there. The show always gets stranger and goofier in its second half — perhaps capitalizing on how slap-happy audiences at home get as Saturday night quickly becomes early early Sunday — and it's always its zaniest in the last 10 minutes. It's the scene that has to stretch to fill time until the last commercial break, so anything goes. It has to — they don't have any other sets built or material prepared to kill time.
The Matchup
"A Nonpartisan Message from Governor Sarah Palin & Senator Hillary Clinton" was, at the time, a big big big deal. It was Tina Fey's third appearance on SNL since leaving in 2006 to work on "30 Rock." Amy Poehler (Clinton) and Fey (Palin) set aside politics to discuss sexism in the presidential campaign. Palin calls for people to stop photoshopping her head onto "sexy bikini pictures," and Clinton demands people stop calling her a "boner shrinker." It eventually devolves into them chiding each other like little children — and reminds audiences how great "SNL" has been at cultivating a long line of strong female comedic performers.
The "Bill Brasky" sketches all unapologetically follow the same formula: Some drunken businessmen are letting off some steam with a round at a bar while in town (wherever that is) for a convention and they reminisce about a salesman whose exploits are superhuman, dangerous, and too absurd to be true. But, as it turns out, he shows up at the end, buys them a round, and every-thing that's been said about him was probably an understatement. These guys are like little kids, totally enamored with an older classmate they look up to. Just imagine that this older kid who has a toenail on his penis and will eat a homeless man if you dare him, and you're pretty much there.
And The Winner Is…
"Bill Brasky." Not even close. Fey's return to "SNL" for that sketch made waves and captured the zeitgeist for that week, but Brasky is a cult classic — to the point that people upload videos of themselves imitating the sketches with new facts furthering the legend of the 10-foot-tall sales-man whose foreskin is used as a tarp when it rains at Yankee Stadium. People are doing that to kill time, they're legitimately paying tribute where tribute is due.
Did the right sketch win? Tell us in the comments section below or on Facebook and Twitter.