SNL Sketch Showdown: Nude Beach vs Bill Brasky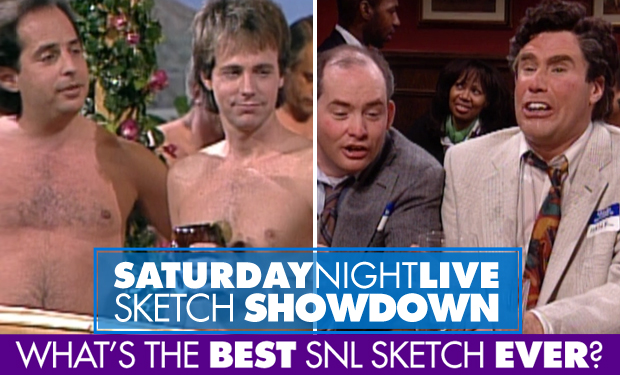 Posted by Megan Vick on
Welcome to the "Saturday Night Live" Sketch Showdown. Every weekday, an IFC writer will determine the winner of a matchup between two classic "SNL" sketches. You can check out the full bracket here.
Raunchy or Experimental?
Airing at 11:30 on a Saturday night allows "SNL" to push boundaries in a few different ways, which is how it has become an institution of comedy. On the one hand the late hour means that many of the FCC regulators have gone to bed so the sketches are allowed to be raunchier than prime time entertainment. On the other it allows "SNL" to push comedy boundaries with new forms of sketches or avant-garde humor which has created dozens of breakout comedy stars. So what makes the bolder statement of late-night comedy – the raunchy or experimental?
The Matchup
"Nude Beach" made it's way through Round 1 for its historical significance to the show – there's no denying that squeezing the word penis 43 times into one sketch and provoking 46,000 complaint letters is impressive. Most importantly, "Nude Beach" embodies the reason people love late night television – dirty humor. What's the point of staying up past midnight to watch PG-13 sketches? While the concept of "Nude Beach" is pretty simple – penises are great no matter the size – it manages to build momentum on a one-word joke. You know what the punch line is before it comes, but it hits the mark all 43 times. The best part is with Kevin Nealon's aside towards the end shows that "SNL" is self-aware. "Nude Beach" shows that it's okay to be ridiculous, raunchy and proud all at the same time.
The last sketch of the night on SNL is usually reserved for their more "experimental" sketches. In 1996 the Will Ferrell and Adam McKay penned "Bill Brasky" filled that last spot and created a new form of SNL sketch. "Bill Brasky" centers around four friends who share increasingly tall tales of their work friend while intermittently admitting awkward secrets that are glazed over before the next Brasky adventure. The sketch had five different variations over the course of three years and one un-aired dress-rehearsal version that appears on Saturday Night Live: The Best of Chris Farley DVD. "Brasky" not only became an SNL staple but also helped solidify Ferrell and McKay as a juggernaut writing duo.
And the Winner Is…
"Bill Brasky." While "Nude Beach" caused a momentary stir of excitement, "Bill Brasky" became a repeatable treasure. The sign of a truly good sketch is when you can put it in new places and build it out to new levels. "Nude Beach" is funny, and well done for what it is but it's a one-note number. There's no way to make a second round of saying "penis" every other word as shocking and funny as the first. "Bill Brasky" not only became a recurring sketch for the next three years, but Tina Fey, Ratchel Dratch and host Scarlett Johansson reincarnated the building-ridiculous-adventure form in their 2006 "Mr. Willoughby" sketch. In a way, the sketch created it's own style and innovation always triumphs over shock-value. "Bill Brasky" shows that a late night experiment can become an institution, which is the true power of "SNL."
Did the right sketch win? Tell us in the comments section below or on Facebook and Twitter.