SNL Sketch Showdown: More Cowbell vs The Chris Farley Show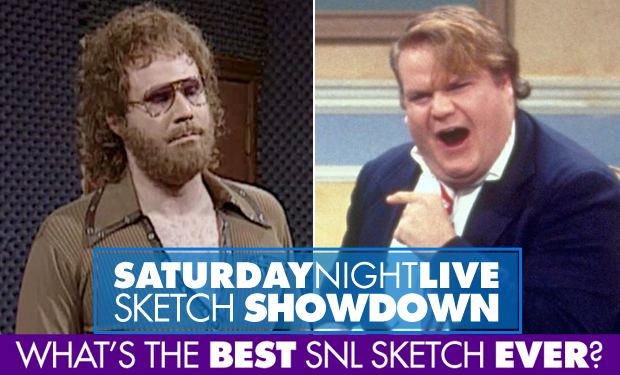 Posted by Brandon Kim on
Welcome to the "Saturday Night Live" Sketch Showdown. Every weekday, an IFC writer will determine the winner of a matchup between two classic "SNL" sketches. You can check out the full bracket here.
Farley and Ferrell Go Head to Head
Apart from their chosen professions, Chris Farley and Will Ferrell appear to be polar opposites in every way. Farley, the self-conscious, troubled addict was the archetypal class jester. Ferrell, the confident, happy alpha male played varsity football. One idolized John Belushi and followed him to a similarly tragic end. The other made enemies with Joan Rivers and continues to ride a hugely successful film career. But for all their differences, both of these comedians share a rare passion for anything-goes hijinks. Ferrell is the first to lose his clothes for a laugh, and Farley never thought twice about humiliating himself to be funny. You also get the distinct feeling that both are performing as much for their fellow cast, as they are for the audience. In this matchup the two take on a little role reversal. Farley, a master of physical comedy, stays put and goes for nervous laughs, while the usually deadpan Ferrell plays with some percussive gyrations.
The Matchup
There is indeed a cowbell on Blue Oyster Cult's, "(Don't Fear) The Reaper," a fact that has not gone unnoticed since April 2000 when Will Ferrell clutched one to his hairy chest before banging it into infamy. The polyester-heavy sketch has a lot going for it, not least of which is Christopher Walken's appearance as the slightly unhinged record producer, Bruce Dickinson, who turns everything he touches into gold (from records to diapers). As the host, it's Walken's show — his immense stage presence commanding your attention as he repeatedly lobbies for more cowbell — but Ferrell ends up stealing the scene as soon as he "explores the space" at Dickinson's request. The sketch rewards multiple viewings too, and not just to bask in Walken's strange diction. It's the little things, like watching Ferrell take a comedic opening with his gut, literally. As his hand reactively moves to pull his shirt down over his exposed belly, he catches bandmate Jimmy Fallon's reaction and leaves it gloriously exposed. Poor Fallon can barely deliver his line.
The genius of "The Chris Farley Show" was two-fold. Farley parodies the kind of vapid entertainment "journalism" which is now ubiquitous in our amateur-dominated media experience, fully a decade before 140 character limits existed, back when people had to insert a disc into their computer just to get online. Perhaps more impressive is the inept host's parody of himself — the self-conscious, foolish fatty, fumbling the show. The awkward tension he creates is almost too much to bear, and it's all amplified by a total lack of Farley's trademark, his physical comedy. Some say the real Chris Farley was just like the guy he's playing in this skit. Others admit it was how he came off, but that it was a put on, a defense mechanism. Either way, Farley was playing at getting laughs at his own expense, a talent the shy Wisconsin boy had long practiced at. And true to his life, he got us laughing, both at him and with him.
And the winner is:
"More Cowbell." Pop culture at its most hilarious, this sketch has the enduring qualities of great comedy. People still quote from it every day, and even the phrase more cowbell lives in our language well beyond a little playful irreverence for some 70's rockers from Long Island. In "The Chris Farley Show" we're waiting for Farley's patented physicality and we don't get it. At the time, this added to the awkward tension that builds throughout and contributed to why it was so "awesome," but it doesn't hold up against the test of time. Ferrell's Gene Frenkle is a fictional character, but his meme is very real. And that cowbell really pulls the track together too.
Did the right sketch win? Tell us in the comments section below or on Facebook and Twitter.