SNL Sketch Showdown: More Cowbell vs. James Brown Hot Tub Party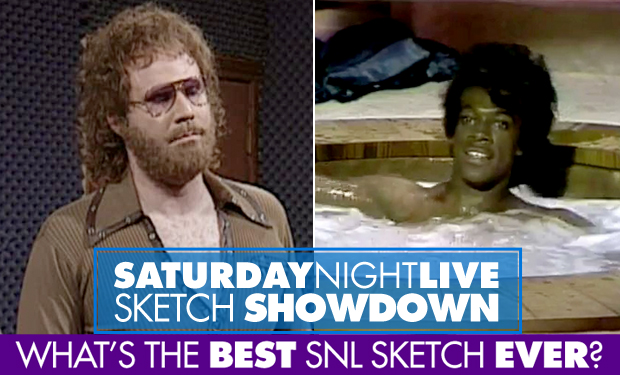 Posted by Ron Mwangaguhunga on
Welcome to the "Saturday Night Live" Sketch Showdown. Every weekday, an IFC writer will determine the winner of a matchup between two classic "SNL" sketches. You can check out the full bracket here.
Pre-game
Two "SNL" legends are essentially facing off against one another: Eddie Murphy and Will Farrell. Does "More Cowbell" exhibit more comedic perfection than "James Brown's Celebrity Hot Tub Party"? Some preliminaries: Murphy, of course, had a falling out over the years with the show as a result of David Spade's brutal takedown of him on Weekend Update ("Look, a falling star"). Murphy, as a result, absented himself from reunions. Any friction between Murphy and the show essentially ended when, in 2011, the movie star came back to host the show to promote "Tower Heist."
The Challenge
Bushwick-born Eddie Murphy, influenced by Richard Pryor and Bill Cosby, goes up against Will Ferrell, master of the over-the-top impression (Janet Reno, James Lipton) and the sketch. Murphy is credited with providing fresh energy to the not-yet-ready-for-prime-time players in the 80s; Ferrell is credited for doing the same in the mid to late 90s. This is an epic match up; both skits are the stuff of legend.
Eddie Murphy sends up of James Brown's ability to make anything, even something as mundane as relaxing in a hot tub, epic. Also: Murphy is making fun of the fact that as enormously entertaining as James Brown is, he is often — how does one put this precisely? — difficult to understand. The skit, essentially, is a vehicle for Murphy's talents as an impersonator and singer. Ferrell is playing essentially a sweaty man-beast — furry beyond all measure, obsessed with his own disgusting percussions — all swagger and man-boobage. "More Cowbell," now a term in the American lexicon, sends up VH1's Behind the Music, more than ever, a significant pop-cultural artifact.
And the Winner is …
"Cowbell." It could not have been otherwise. Will had me at the muffin top. Yes, Murphy's gold mankini is spectacular, a shocking, tragic visual. But it is Will Ferrell's arch, barely fitting split-pea soup colored top that arrests the viewer's attention at the outset and that ultimately prevails. One of Ferrell's strengths is the amount of emotional range — passive aggressive to, essentially, flat out aggro cowbell playing — that he brings to his performances. His way, way over-the-top act outshines even Christopher Walken, who is no stranger to over-the-top performances in his own career. Finally, the chemistry of all the players involved — Jimmy Fallon, Walken, Chris Parnell and Horatio Sanz — adds to the allure of the skit. Ferrell was always a team player, and when he shined everybody in the skit shined — even Fallon, who, at about 3:42 into the skit, starts to crack up in one of his most legendary on air crack ups. Hot Tub is an excellent vehicle for Murphy; Cowbell is an excellent ensemble skit in which Will Ferrell shines. It is, in retrospect, hard to think of a more accurate metaphor for Will Ferrell than as a comedian who plays well with others but who beats to the tune of his own peculiar cowbell.
Did the right sketch win? Tell us in the comments section below or on Facebook and Twitter.