SNL Sketch Showdown: James Brown Hot Tub Party vs. Buckwheat Dead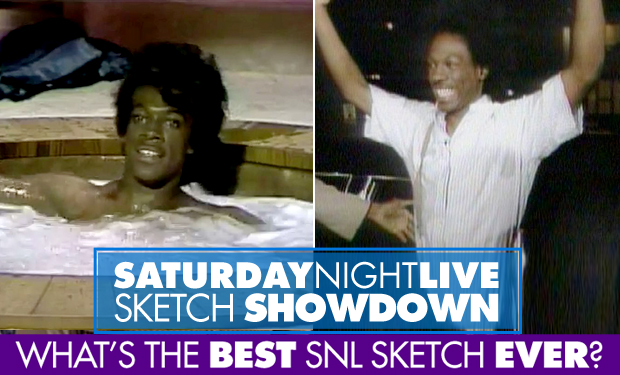 Posted by Tim Grierson on
Welcome to the "Saturday Night Live" Sketch Showdown. Every weekday, an IFC writer will determine the winner of a matchup between two classic "SNL" sketches. You can check out the full bracket here.
Classic Eddie
"Saturday Night Live" has launched numerous actors into the mainstream, but none of them have flaunted the unholy trinity of cockiness, talent and popularity quite like Eddie Murphy did. Too many bad recent family comedies may have tarnished his reputation, but in the early '80s Murphy was a dangerous, wiry young guy whose big toothy grin barely hid his sometimes-antagonistic demeanor. At a time when racial inequality was still rampant, especially in regards to who we saw in movies and on television, Murphy came across on "SNL" as the embodiment of what undoubtedly some white viewers assumed African-Americans to be: intimidating, smooth-talking punks who were ready to upend the traditional power structure. Murphy's genius was to both play into that impression but also to subvert it, delivering a funny, smart take on black life in America that melded Bill Cosby's charm with Richard Pryor's fearlessness. But beyond all that, he was just a hell of an entertainer — arguably the greatest pure showman of the program's early years.
The Match Up
Where other "SNL" cast members were simply funny, Murphy was that and much more: a star. You don't need to look any further than "James Brown's Celebrity Hot Tub Party" to see him in his element. The sketch's concept isn't much, Murphy playing James Brown and milking the singer's Hardest Working Man In Show Business bluster — complete with call-and-response backing band. But at just over two minutes, "Celebrity Hot Tub Party" is bliss perfected, combining the pleasure of Brown's ecstatic funk with Murphy's gleeful impersonation and kinetic charisma. It's not that the sketch is all that hilarious — it's just that Murphy absolutely nails the essence of a pop culture icon and then adds his own little indelible twist on top of it. As much as we love Steve Martin's "King Tut," we've always been surprised that this song parody didn't take off as well.
But if you want the barbed, satiric Murphy, you should check out "Buckwheat Dead: America Mourns" from early 1983. A few years earlier, Murphy had introduced his spoof of the marble-mouthed "Our Gang" character — "Hi, I'm Buh-weet, remember me?!" — who had grown into an adult that sang contemporary pop hits, mangling them hysterically in the process. But in "America Mourns," the bit went darker, imagining Ted Koppel (Joe Piscopo) doing a special report on the man who shot the beloved entertainer, a loner named John David Stutts (also played by Murphy). A timely takeoff on the assassination attempts (some successful, some not) of John Lennon, President Reagan and Pope John Paul II, "America Mourns" is an incredibly biting attack on the way the media covers (and capitalizes on) horrible tragedies, turning psychopaths into celebrities and sensationalizing every tawdry element imaginable. (For extra sting, the segment is sponsored by Mutual Life, whose recurring ads keeps reminding us, "Because you could die tomorrow.") These are laughs that keep getting stuck in your throat — as Stutts, Murphy plays the loopiest version of these lone gunmen, the humor cruelly undercut by the shock that such people actually exist in our world.
And The Winner Is…
These two are so evenly matched it goes into overtime. But, eventually, "Celebrity Hot Tub Party" squeaks out the win in a nail-biter. True, "America Mourns" is the sharper, more ambitious piece, but it's also got some dull, dated spots. By comparison, Eddie Murphy strutting around and singing like James Brown will simply never get old. You can see "Celebrity Hot Tub Party" as one of the true precursors to Andy Samberg's musical Digital Shorts, which equally owned the styles/genres they were aping. Too hot in the hot tub — and so much fun that even Murphy has to keep from cracking up a couple different times during the bit.
Did the right sketch win? Tell us in the comments section below or on Facebook and Twitter.