"Pineapple Express 2" coming out in April?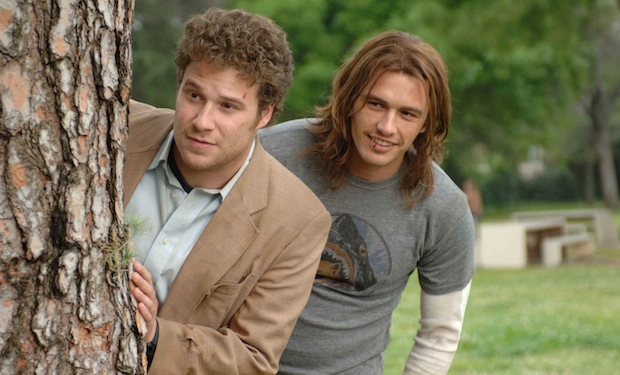 Posted by Terri Schwartz on
Before you get too excited, let's preface this article by letting you know that, no, "Pineapple Express 2" has not actually been announced. Instead, fans are getting the next best thing: "This Is The End."
In honor of April Fool's Day, Sony Pictures released a trailer for the alleged "Pineapple Express 2" on their YouTube page. And, for the record, it's amazing. It's worth noting that Jonah Hill does a terrible Woody Harrelson impression and we could listen to James Franco and Seth Rogen say "BFFFFFFF" back and forth to one another all day. But the trailer ends in a surprise-twist: It's actually a trailer for "This Is The End."
While it would be amazing if this video actually makes it into "This Is The End," it doesn't seem very likely. Still, kudos to the Sony marketing team for bringing everyone's hopes up and then sending them crashing downwards today. "This Is The End" better deliver on the promise of being "Pineapple Express 2."
"This Is The End" is the directorial debut of Rogen and Evan Goldberg. In addition to Rogen, Franco and Hill, the movie also stars Danny McBride, Craig Robinson, Jay Baruchel, Jason Segen, Emma Watson, Paul Rudd and Rihanna. It's due in theaters on June 12, not April like this trailer teased. Watch the movie's actual red band trailer here.
Did this April Fool's stunt have you going? Tell us in the comments section below or on Facebook and Twitter.