Jason Schwartzman, Ellen Page & Sarah Silverman guest star in the season finale of "Out There," airing tonight at 10/9c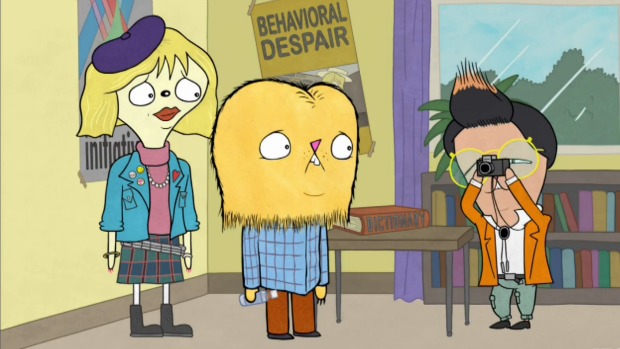 Posted by Melissa Locker on
As strange as it may sound, some people really love high school. How do they make it through high school unfazed by the relentless stream of near-constant humiliations and potentially emotionally-scarring embarrassment? By finding like-minded folks and banding together to weather high school while doing your best to ignore everyone else (and mocking everyone you can't ignore). It's called strength in numbers and Chad (Ryan Quincy) thinks he's found out when he gets invited to the Yearbook Club. In "Out There," our animated coming-of-age comedy, Chad's doodlings in class get him noticed by the "cool kids" of the Yearbook Club, voiced by guest stars Jason Schwartzman, Ellen Page and Sarah Silverman. At first, Chad is happy to be invited into their inner circle but the Yearbook Club members quickly show their true colors.
Watch the clip now and catch the season finale of our original animated series "Out There" this tonight at 10pm ET/PT.
video player loading
.
.
.
Want the latest news from "Out There"? Like them on Facebook and follow them on Twitter @IFCouthere.
"Out There" airs on IFC on Fridays at 10/9c