Olga Kurylenko talks "Oblivion," "To The Wonder," and "Erased"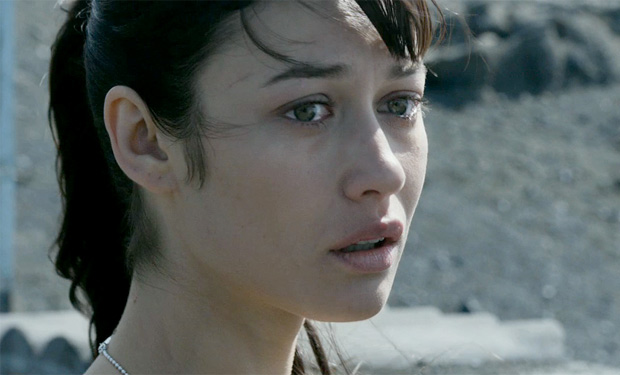 Posted by Jennifer Vineyard on
Oblivion is a state of forgetting, the state of having forgotten, but you won't be able to forget "Oblivion" star Olga Kurylenko anytime soon — and that's not just because her latest film is number one at the box office and a worldwide hit, courtesy of Tom Cruise star power. ("It's insane!" she gushed to IFC.)
Kurylenko, who previously made her mark opposite Daniel Craig in the James Bond film "Quantum of Solace," can also be seen in next month's "Erased" with Aaron Eckhart and in art house theaters now with Terrence Malick's "To the Wonder" with Ben Affleck, which might make you wonder — how does she always end up as the love interest to some of the most attractive men on screen? Is this a contract condition of hers? "No," she giggled. "Doesn't this happen to all the others? Am I the only one? Hey, it's a tough life I have. It could have been worse, right?"
Kurylenko gives what might be the only affecting performance in "To the Wonder" (since Malick cut so many of the other actors out of the film, and gives Affleck virtually no dialogue). And she also gives what might be one of the few truly compellingly human performances in "Oblivion" (but that's only because — spoilers ahead — some of her cast mates are playing clones). In both, she exists as if a woman out of a dream, quite literally, in the case of Tom Cruise's character. Jack, a drone mechanic who thinks he's one of the last people left on Earth, has been having strange dreams about a woman he can't quite identify. Is this a memory? He tells us that his memory was wiped five years ago for security clearance, which would explain a fragment, but this dream tells him of a woman and of a planet from 60 years before, back when the Empire State Building still looked over a teeming populace. So imagine his surprise when he discovers that a survivor of a spacecraft crash in suspended animation is the very same woman, and even stranger, she remembers him, too.
To prep for these parts, Kurylenko did her homework, devouring Russian novels such as "Anna Karenina," "The Brothers Karamazov," and "The Idiot" to fill in the blanks for the script-less "To the Wonder," because "I had to combine certain qualities and traits of female characters in all three books," and for "Oblivion," watching astronaut training videos, sci-fi such as "Solaris" and classic romances such as "Notorious" and "Casablanca." "'Solaris' deals with a similar subject, going into space, confronting a memory," she said. "And all the romances, because we all agreed, we wanted the romance in the movie to be like the old days, to be pure, to be touching."
"Oblivion" has gotten a lot of flak from critics for recycling sci-fi tropes, but Kuryleno said that the film actually raises a lot of interesting, thought-provoking questions. "It's not just sci-fi," she said. "It's full of messages, important questions that we can ask ourselves: Why are we here on this earth? What is it to be human? What is the difference between a human and someone who is not human, either an alien or a clone? Does love ever end? Is it an energy that can survive even when the world collapses?"
In other words, is love — or our capacity for love, as encapsulated by our soul — immortal? Does it matter which body a soul is in, if the memory remains intact? Both Jack and Victoria, played by Cruise and Andrea Riseborough, have been subject to these so-called memory wipes, and believe that they are a couple as well as an "effective team," with her manning the communication controls between their station and a central command, and him out in the field repairing drones which allegedly protect the remaining humans and their dwindling resources from aliens. But (again, spoilers ahead) what Jack and Victoria have been told is a lie — about central command, about the drones, even about themselves. The question is, if you don't remember yourself, who are you? And if you share a memory of being someone else, does that make you that person?
"That's the division in the film that I like very much," Kurylenko said. "Jack and Victoria are in a way brainwashed, but Victoria doesn't want to know the truth, no matter what happens. She consciously refuses to find out. She closes her eyes. but Jack is curious and eager to discover the truth, no matter how ugly. And in the end, you see how that works out for both of them."
Jack and Victoria's reaction to Kurylenko's character Julia is telling — Jack wants to help her, and Victoria would rather Julia just go away, because it makes her and Jack less of an "effective team" (a phrase oft-repeated in the film to a final chilling effect). To be an effective team, Jack is supposed to follow orders, to not think about whether the orders make sense. Trying to learn the truth — about what happened to humanity on Earth, about the people who survived — can have fatal consequences. "You know how they say everybody dies, but it's about dying well?" Kurylenko asked. "That's the truth. We all die. The question is, what kind of life will we have lived? Will we have been brave, or will we live in oblivion? There are all these questions, so it's not just some sci-fi movie that makes no sense. Hopefully people will see that and understand that."
Likewise, Kurylenko's next film "Erased" has a similar undertone, even if the two films couldn't be more different in look, genre, scope, location, and execution. While "Oblivion" was shot in Iceland to feature landscapes of glaciers, snow, and dry lava all bumping up next to each other, "Erased" takes place in the cities of Belgium, and is an espionage thriller about the CIA's unofficial participation in providing weapons to warlords. But the key to both is that at the center is a man who doesn't realize whom he's working for or what he's doing for them until it's too late, and an employer who will execute him if he asks too many questions. "It's a similar message," Kurylenko agreed. "And I'm actually quite astonished that you could see the same line goes through both, because visually, they're not the same."
The flip side for her on "Erased," however, is that this time, she could be one of the bad guys, with emphasis on guys. "The way the director spoke to me about my character, which is what attracted me to the project, is that he said, 'You're a woman, but you think you're a man,'" she said. "And I've never explored that side of myself before."
Will you be checking out Olga Kurylenko's recent/upcoming films? Tell us in the comments section below or on Facebook and Twitter.