Nick Offerman guest stars in a new episode of "Out There," airing tonight at 10/9c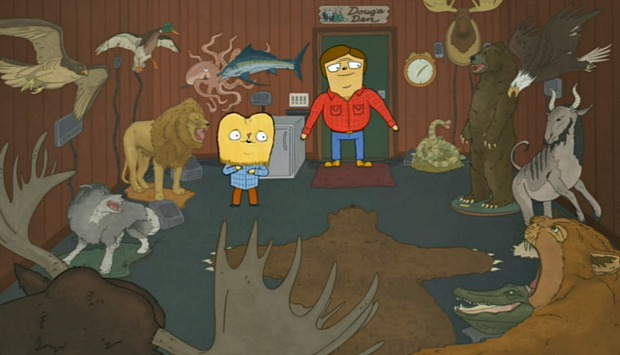 Posted by Melissa Locker on
Nick Offerman is very manly. Whether he's playing Ron Swanson, manliest of men, on "Parks & Recreation" or working as a professional boat builder (he released an instructional DVD back in 2008 called "Canoe Building with Nick Offerman"), it's clear that he has no shortage of the three Ts: Taxidermy, Tools and Testosterone. So when were looking for someone to bring to life Sharla's uber-masculine dad Doug on "Out There," Offerman was the natural choice. Luckily, he agreed and on this Friday's episode we get to watch as Offerman explores his love of taxidermy on "Out There."
When Chad's (Ryan Quincy) dad Wayne (John DiMaggio) refuses to compete in their town's annual father-and-son Hexathalon, Chad asks Sharla's (Linda Cardellini) macho dad to compete with him instead. Doug has no problem taking Chad under his paternal wing and sharing with him his favorite hobby: taxidermy.
IFC's original animated series "Out There" is created, written by and executive produced by Ryan Quincy, the Emmy®-award winning animation director and producer of "South Park." Other notable voices appearing throughout the season include Pamela Adlon, Fred Armisen, Selma Blair, Linda Cardellini, Jemaine Clement, John DiMaggio, Megan Mullally, Nick Offerman, Ellen Page, Stephen Root, Jason Schwartzman and Sarah Silverman.
Watch Nick Offerman in this new clip from "Out There" and tune in for the full episode on Friday at 10/9c:
video player loading
.
.
.
Want the latest news from "Out There"? Like them on Facebook and follow them on Twitter @IFCouthere.
"Out There" airs on IFC on Fridays at 10/9c